'Turkey cutting off water is an international crime and violation of the right to life'
Speaking at the International Water Forum in North and East Syria, the participants said that Turkey cutting off the water flowing to the region is a violation of their right to life.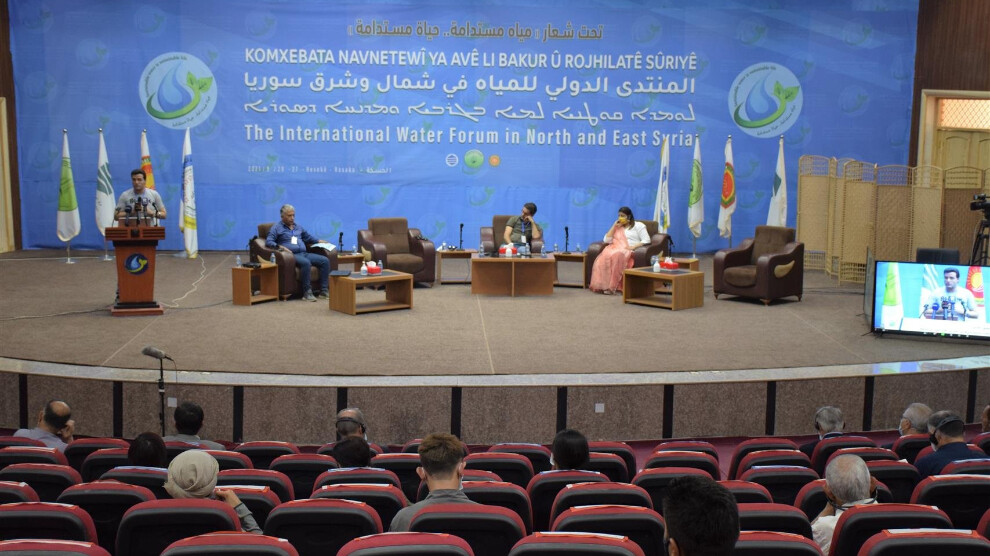 The International Water Forum in North and East Syria is continuing on its second day.
North and East Syria Health Studies Coordinator Neha Ching, Biotechnology Specialist Dr. Mistefa Elem Horo, Environmental Engineer Arcan İbo and Health Biotechnology Specialist Heyder Seyfi made speeches at the fourth session of the forum today.
Speakers evaluated climate change, water and its effects on food security in the region, and the water decrease in rivers in North and East Syria.
In addition, they noted that these changes and the use of water in politics are a violation of the right to life and pose a danger to all humanity. The speakers stated that the Turkish state's deliberate water cuts and the lack of rainfall have aggravated the existing danger.
The speakers reported that 19 dams were built on the Euphrates and Tigris rivers as part of the Turkish state's GAP Project, leaving 5 thousand Kurdish citizens with no job opportunities. In addition, 4,000 villages were evacuated and millions of people, mostly Kurdish, were forced to migrate.
"The Turkish state wants to use these dams against the Syrians and Iraqis. It thus violates international agreements. It uses water as a weapon not only against the people of North and East Syria, but also against the people of Iraq for its political, economic and social purposes," the participants said.
The speakers pointed out the importance of the Euphrates and Tigris water for the people of the region and warned that the Turkish state cuts off the water in an attempt to displace the people of the region. Turkey also uses water as a leverage in the dialogue between Syria and Iraq, they added.
The participants stated that cutting off the Euphrates River water is a policy of hostility towards Syrians, Iraqis and other neighbouring countries and defined it as an international crime.
RELATED NEWS: