YPG announces ID of 7 martyrs including 3 internationalists
YPG Press Center announced the identity information of 7 fighters, including 3 internationalist fighters.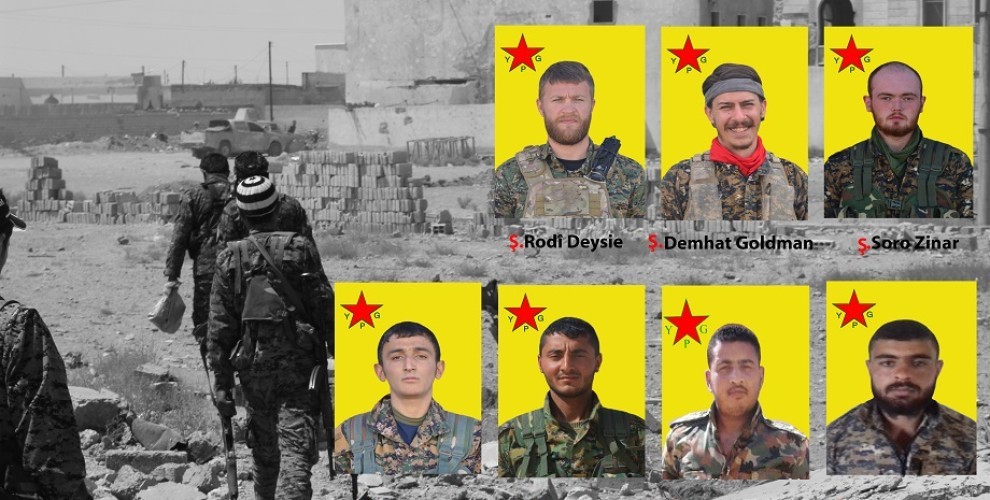 YPG Press Center issued a statement on their website and announced the identity information of 6 fighters who were martyred in the operation to liberate Raqqa and one fighter who was martyred in an accident.
Among the martyred fighters are Americans Demhat Goldman, Rodî Deysie and British Soro Zinar.
The statement YPG published on their website is as follows:
"The operation to liberate Raqqa continues unhindered. We have delivered serious blows to the brains of the ISIS fascism and we continue to do so. This is a large scale war and a war to annihilate ISIS gangs. The YPG and YPJ fighters who have fought enemies of humanity ISIS fascism nonstop from the beginning have created hard to believe victories and a revolution that belongs to all of humanity. In the actualization of this revolution, Kurds and the peoples of the region, and then after the Kobanê resistance hundreds of young people throughout the world, have come together to be a part of the Rojava revolution and to turn the revolution into a world revolution and have displayed a continuous struggle.
Revolutionaries who have strived in their own countries for the freedom of humanity see Rojava as the hope for emancipation for humanity and are joining the revolution, since the Rojava revolution began. Internationalist fighters who join in the revolution at the very first fronts and who have been martyred have gifted the Rojava revolution to the peoples of the world. 3 of our 6 comrades who fought in the very front lines against ISIS fascism and were martyred were internationalist fighters. Comrades Demhat, Rodî and Soro, like all their other comrades, sacrificed themselves and fought until the end to put a stop to ISIS barbarism and to make sure all the peoples of the world, not just the peoples of Rojava, can have a common and free life.
Meanwhile our comrade Dilşêr has been martyred in an accident.
We as the YPG repeat our promise of victory to our martyrs and we say that to show our loyalty to their memory as we carry the revolution to victory. We promise that we will continue this revolution until all humanity is free, in the person of our internationalist martyrs. Our people will not forget the heroes who believed Rojava their home and came, who accepted the peoples of Rojava as their own, fought in their name and were martyred. Our people will stay true to their memory.
The identity information of our martyrs is as follows:
Demhat Goldman
Code Name: Demhat Goldman
Name: Robert Grodt
Mother's name: Tammy
Father's name: Wayne
Place of birth: Calîfornîa
Place and date of martyrdom: Raqqa / 6 July 2017
***
Dilşêr Zap
Code Name: Dilşêr Zap
Name: Nuredîn Yunis
Mother's name: Bêrîvan
Father's name: Loqman
Place of birth: Raqqa
Place and date of martyrdom: Kobanê / 3 July 2017
***
Lorens Amed
Code Name: Lorens Amed
Name: Malik El Elî
Mother's name: Fatma
Father's name: Fayiz
Place of birth: Hesekê
Place and date of martyrdom: Raqqa / 6 July 2017
***
Murad Til Temir
Code Name: Murad Til Temir
Name: Casim El Salih
Mother's name: Sebha
Father's name: Taha
Place of birth: Til Temir
Place and date of martyrdom: Raqqa / 29 June 2017
***
Rodî Deysie
Code Name: Rodî Deysie
Name: Nicholas Warden
Mother's name: Dawn Hall
Father's name: Mark
Place of birth: Fort Stewart / Georgia
Place and date of martyrdom: Raqqa / 6 July 2017
***
Şoreş Cudî
Code Name: Şoreş Cudî
Name: Edhem Mehmûd
Mother's name: Emîna
Father's name: Nebo
Place of birth: Serêkaniyê
Place and date of martyrdom: Raqqa / 7 July 2017
***
Soro Zinar
Code Name: Soro Zinar
Name: Luke Rutter
Mother's name: Caroline
Father's name: Andre
Place of birth: Birkenhead
Place and date of martyrdom: Raqqa / 6 July 2017