A story to be told inside each refugee tent
Many people fled their cities and found shelter in SDF-controlled areas.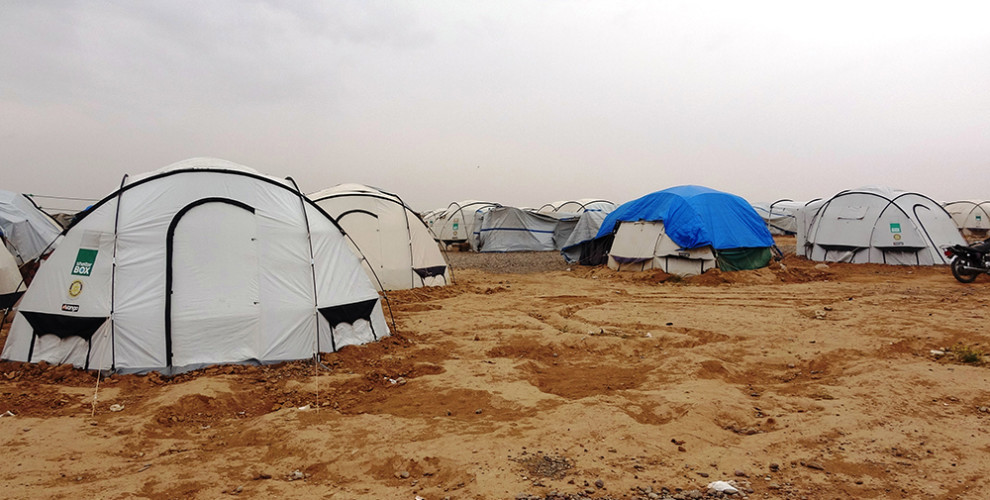 After the liberation of a significant part of Northern Syria by the Syrian Democratic Forces (SDF) from the mercenaries of the Islamic State, the region has lived a much desired peace and security.
Thousands of civilians fleeing the Syrian regime and the ISIS mercenaries have actually emigrated to the regions under control of the SDF forces in Northern Syria. And this emigration continues on a daily basis. Most of the displaced civilians are finding shelter in the camps set up by the local autonomous administrations.
Refugees in the camps are settled in tents. Entering in each tent is like entering in people's life. And in each tent there are traces of a different tragedy.
Najaf al-Ebdela, a woman who migrated from Deir ez-Zor, told ANHA news agency that she has 11 children. She fled from the regime and found shelter here. Al-Ebdela said they were forced to escape in order to avoid being massacred by the regime and fled to the SDF-controlled areas looking for protection.
Najaf el-Ebdela shared a memory: "When we were sitting at home, we heard the sound of warplanes nearing. Then we realized that the planes are going to bomb. A few minutes later, a nearby house was bombed. The smoke started to rise. We couldn't see anything because of the smoke. When the smoke began to dissolve I saw my husband dead. A piece of shrapnel also hit my son. My son has never psychologically recovered from that".
The air raid destroyed al-Ebdela's house. She came to Raqqa three years ago, but there nothing changed in their lives. She couldn't start hoping again. Indeed, because there were no medicines, one of her son died when he fell ill.
Najaf al-Ebdela now resides in the Abu Xesheb Camp in Deir ez-Zor. One of her daughter, aged 12 is ill but she cannot find medication for treatment.
Fatma Al-Hoshan comes from Bukemal town in the Deir ez-Zor province. The Syrian regime heavily attacked Bukemal. The woman recalled that she "lost my son in that bombardment. There was no one to protect us, so we decided to come to the SDF-controlled areas".
Al-Hoshan said that they have given 75 Syrian liras per person when she left Bukemal to go to the SDF-controlled area. On the way there she lost one son and heard nothing about him from one year.
Al-Hoshan had nothing but words of gratitude for the SDF and called on humanitarian organizations to help the refugees.