Emergency aid from Bolzano, Italy arrives in Shehba
The Italian Autonomous Province of Bolzano has sent 40,000 Euro emergency aid to the people of Afrin.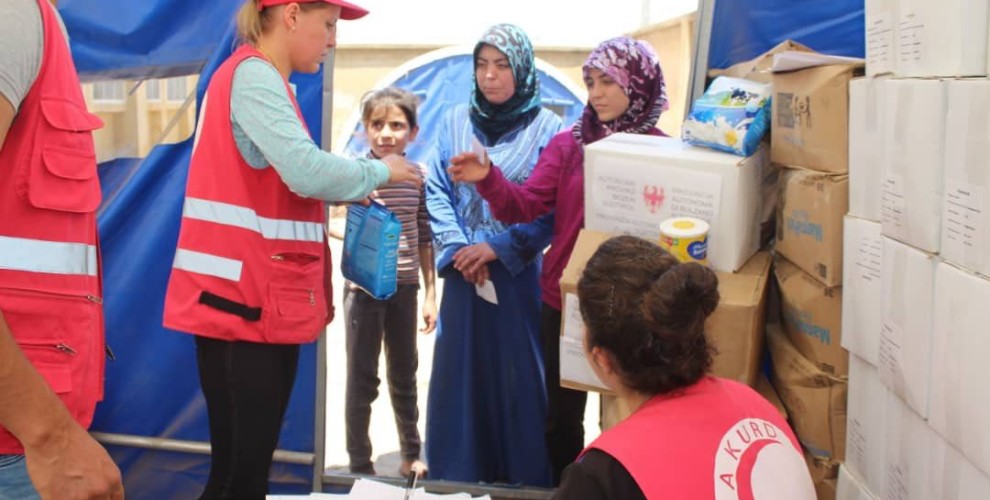 The Autonomous Province of Bolzano had approved and allocated 40,000 Euro as emergency aid fund to be sent to the people of Afrin now displaced in the camp in Shehba.
The project, covering the food needs of around a thousand families for a couple of months, was designed by the Province and the Gesellschaft für bedrohte Völker (Association for Threatened Peoples) and organised through Kurdish Red Crescent Heyva Sor a Kurd.
Earlier this week representatives of Heyva Sor a Kurd Italy and UIKI confirmed that boxes of food bought with the Italian emergency fund were being delivered to the families in Shehba.  
Heyva Sor had bought canned food, powder milk for children, oil, and the organisation's volunteers had already begun distribution.
The president of the Province, Arno Kompatscher had said, after the fund was approved, that this emergency aid "will be used to buy food, medicines, clothes and other basic products. The Kurdish organization Heyva Sor will help in the logistics of the whole operation.
The Province of Bolzano (Trentino Alto Adige region, in the north of Italy) is the only Italian administration that has promptly responded to the appeals coming from the people of Afrin. Now the Afrin Autonomous Administration hopes that this would set an example for other councils, provinces, regions to act.
In September 2016 the Provincial Council of Bolzano had approved a motion recognising the right to freedom, safety and autonomy of Kurds and the other ethnic groups living in Rojava.
The Province of Bolzano has set up 10 cooperation projects in Syria, since 2014. The Association For Threatened Peoples (Gesellschaft für bedrohte Völker (GfbV) is a humanitarian association based in Gottingen, Germany and has worked for many years with the Kurdish community in Bolzano, promoting initiatives and cooperation projects in Rojava.