People take to the streets for Öcalan in Serêkaniye
Kurdish, Arab and Armenian people from Serêkaniye took to the streets by thousands  to protest the international plot initiated against Kurdish people's leader Abdullah Öcalan on 9 October 1998 when he was forced to leave Syria.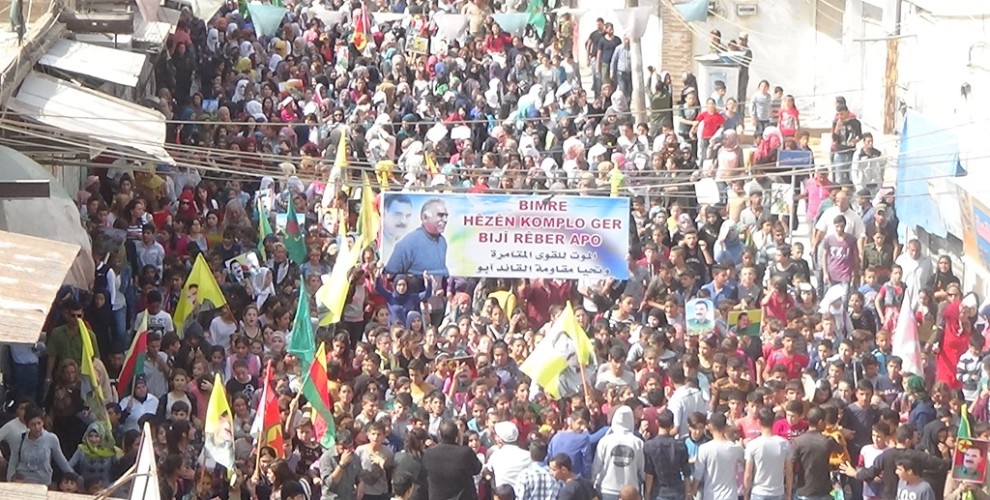 On the occasion of the 19th anniversary of the international plot against Kurdish people's leader Abdullah Öcalan, thousands of people from Serêkaniye as well as fighters of the YPG/YPJ staged a mass march in Zirganê district.
The march began in front of Serêkaniye People's Council and continued through the main streets of the city. The masses chanted slogans demanding freedom for Öcalan, and lifted posters of the Kurdish leader, and banners reading "We vow to break the Imrali system and share our life with leader Apo" and "Death to the plotters, long live leader Öcalan."
The march continued with a rally at the market square, where Şêrîn Ebdê spoke on behalf of TEV-DEM (Movement for a Democratic Society) and condemned the actors of the 9 October plot.
Şêrîn Ebdê called the international plot an attempt to break the will of the Kurdish and other freedom-striving people, which –she said- failed in the face of the philosophy of Öcalan. Ebdê called upon all peoples that want their freedom to keep on with demonstrations and struggle for the freedom of the Kurdish leader.