Turkish savagery in Afrin: Death toll rises to 21 - UPDATE
The Turkish state has committed yet another massacre on the 56th day of the attacks against Afrin. Bombardments on city center claimed the lives of 21 civilians and left dozens wounded.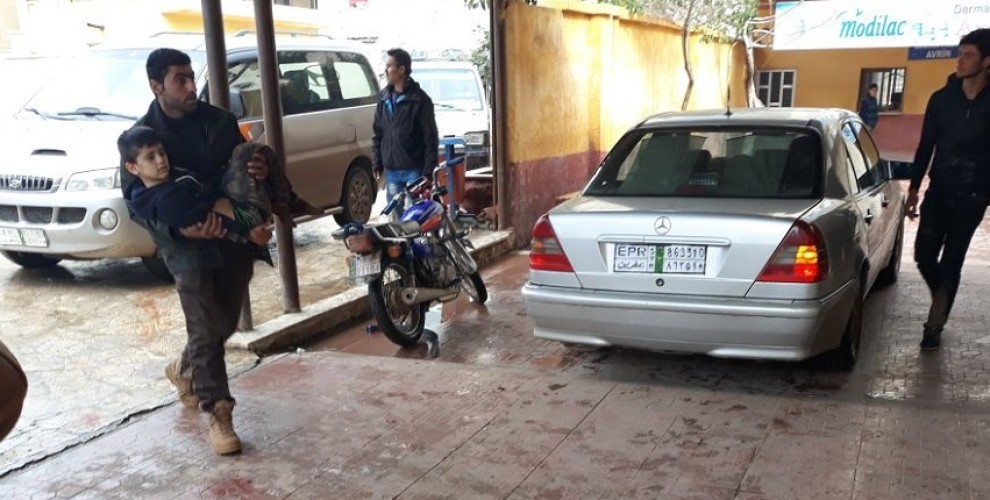 The invading Turkish army continues its attacks against Afrin city center where hundreds of thousands live. Attacks with warplanes, artillery and howitzer fire are directly targeting civilians.
Death toll is rising after recent attacks that targeted central Afrin. According to ANF reporters on the ground, at least 21 civilians have been massacred since Thursday evening.
Names of some of the slain civilians are;
Fadil Yusuf (46), Azad Bozo, Sabri Midewer (64), Ehmed Exlas (32), Şewket Henan (30), Qidret Bexlawa (70).
Names of those wounded who have been identified are as follows;
Arif Bekir Sido 54,
Ferhat Muhammed 25, Faik Xelil 21,
Meryem Muhammed (8 aylık)
Seyran Ayet (24)
Fatma Osman (55)
Hamide Reşo (60)
Abdurrahman Reşo (80)
Zekeriya Ahmed (60)
Silva Osman (2)
Reni Xelef (15)
Rema Xelef (15)
Arife Ibrahim (31)
Abdulvehap xelef (60)
Husseyin Xelef (35)
Umul Heci Xelef (55)
Muna Habeş (39)
Serwan Nehsen (8)
Muhammed Reşid Hemdus (42)
Zekerîya Amurî (40)
Hozan Alîko (29)
Xelil Muhammed Xelo (52)
Muhammed Hesen Ibl Abdo (35)
Emine Ibrahim (25)
Gulistan Hemduş (7)
Yara Hemduş (19)
Welid Muhammed Muhammed (63)
Ronahi Ismet (17)
Şiwan Menan Osman (32)
More than 260 civilians have been killed during 56 days of the Turkish state's invasion attacks against Afrin.