Police violence with dogs and sexual insults against activist
Kurdish activist Rojbin Çetin was tortured for three and a half hours by a special police unit in her apartment in Amed. She was bitten by dogs, sexually insulted, stripped half-naked and photographed blindfolded.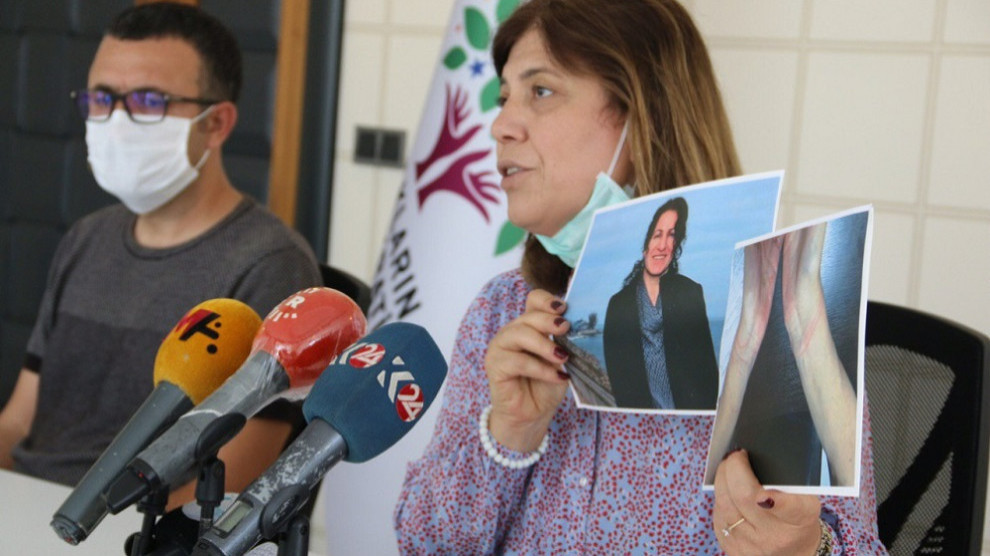 Rojbin Çetin was arrested in Amed (Diyarbakir) on Friday as part of a police operation against Kurdish civil society. HDP politicians Meral Danış Beştaş and Ayşe Acar Başaran announced at a press conference today that the activist of the women's movement TJA, who is also a member of the HDP's local administration board committee, was tortured for three and a half hours in her apartment. Beştaş and Acar documented the abuse with photos and demanded an immediate statement from the Turkish government.
HDP vice-chair Beştaş said at the press conference: "Rojbin Çetin was tortured in her apartment in Diyarbakir when she was arrested. The arrest was carried out in a manner that cannot be described as normal. Normally arrests are made by the anti-terrorist police. However, the anti-terrorist police were accompanied by a special unit to Rojbin Çetin's apartment. The entire building was surrounded by hundreds of police."
The Diyarbakir Police Directorate has initiated a new phase in which dogs are used as a method of torture, Beştaş emphasized and went on to say that Rojbin Çetin was alone in the apartment at the time of the police raid and no witnesses were called in, as is also required by Turkish legislation. After the door was broken open by the police, two dogs were first set upon Rojbin Çetin. The activist was bitten in both legs. "The security forces deliberately induced and observed this attack. Rojbin Çetin was subjected to a torture session in her own apartment for the next three and a half hours. During this time she was subjected to severe sexual abuse. After a while she was blindfolded. She was tortured at her own residence to say what was wanted of her before a lawyer arrived. The more resistance she offered, the more the torture level was increased. A gun was held to her head. She was told: 'If you scream and don't talk, you know what we'll do. If the apartment was not on the second floor but on the fifth, you would have jumped anyway, then we wouldn't have to do anything'. Our friend Rojbin is still in the hands of those monsters.'
Beştaş noted that Rojbin Çetin can identify their torturers. The HDP demands an immediate statement from the government and legal action against the police officers involved.
Ayşe Acar Başaran, spokeswoman of the HDP Women's Council, added to the comments of her parliamentary group colleague: "The torture involved Rojbin being stripped half-naked and photographed blindfolded. The question we have to ask ourselves is what is to happen with these photos. Where will they be published, which trolls will get their hands on them? It will be used as another form of torture. But all these attacks will not be able to set the women's movement back. It's not just an attack on Kurdish women. All women's organisations must react together and recognise the dimension of the AKP's misogynist policy."