Women from Afrin region celebrate the 18th year of Kongra Star
Kongra Star, the women's umbrella organization in North-East Syria, was founded on 15 January 2016 "to build an ethical and political society as well as to achieve the freedom of women and society."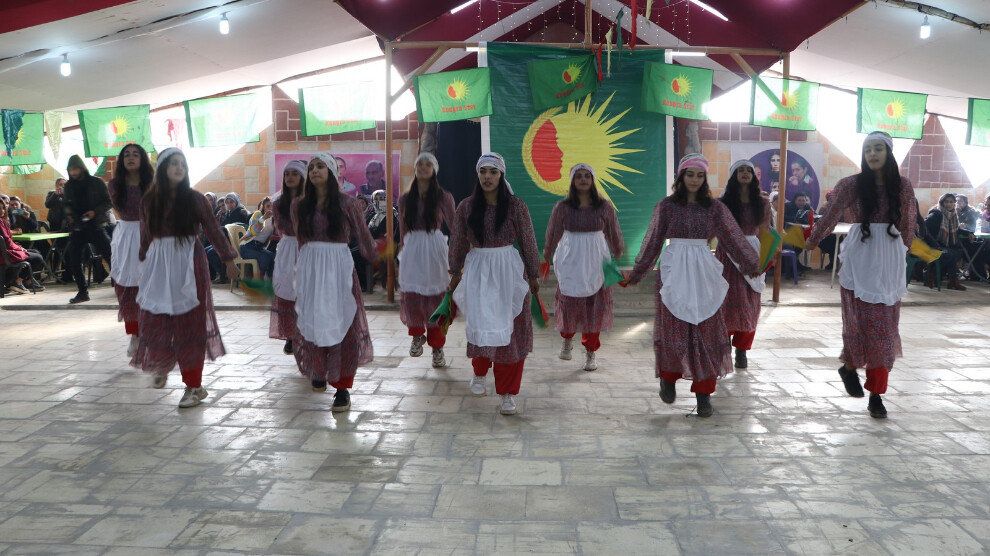 Kongra Star Afrin Region Coordination organized a celebration to mark the 18th founding anniversary in the el-Ehdas district of Shehba Canton on Sunday.
Hundreds of Kurdish, Arab and Turkmen women attended the celebration where Kongra Star executive Rîhana Elo addressed the crowd and congratulated all the resisting women on the founding of the organization.
Rîhana Elo highlighted the fact that women have played a major role in the military, social, economic and cultural fields during the course of the Rojava Revolution.
Rîhana Elo remarked that they worked hard to achieve the freedom of women in Syria and all around the world.
Speaking after, Wefaa Hisên, a member of the Council of Martyrs' Families, stated that women freed themselves from the patriarchal mindset thanks to the philosophy and ideas of Abdullah Öcalan.
The Martyr Mizgin music group from Hîlala Zêrîn Movement performed songs to which participants danced with great enthusiasm.
The celebration continued with the performances of Martyr Viyan Folk Dance Group and musician Fatme Bîlal singing songs in Kurdish and Arabic.