Vigil against deforestation in Akbelen continues
A large area of the Akbelen forest in the Turkish Mediterranean province of Muğla has already been cleared for brown coal mining. Residents and activists continue to resist, while the state confronts them with the police and the gendarmerie.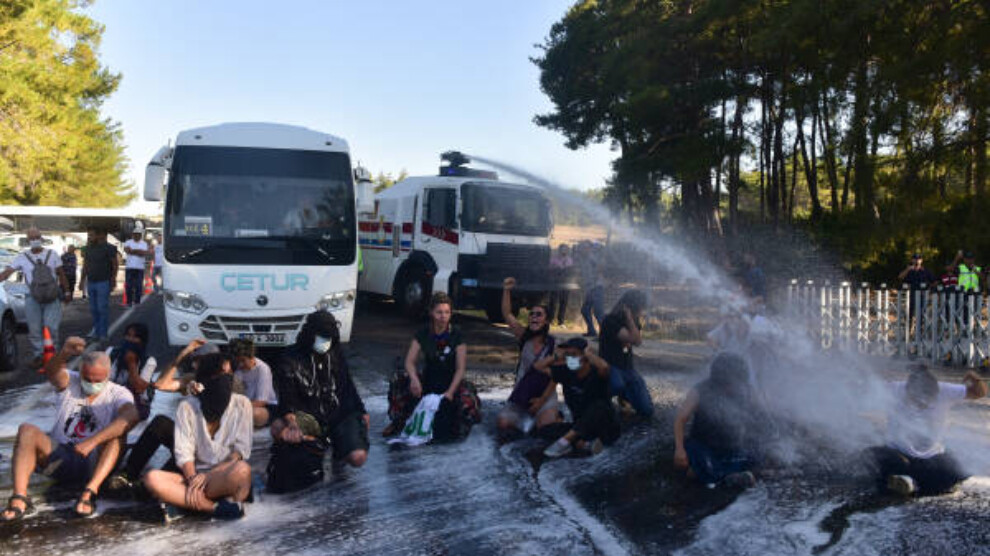 The resistance against the deforestation of the Akbelen forest in Muğla continues, but a large area of forest has already been cleared. On Saturday, the police and gendarmerie used water cannons and tear gas against the protesting residents from the village of Ikizköy and activists from other parts of Turkey. The demonstrators repeatedly blocked roads in the district of Milas on the Mediterranean coast. The people of Ikizköy, who have been able to prevent the planned clearing of the forest for lignite mining for years with a protest camp, continue to show their determination despite the state's superior force. "We are not giving up, we will stay here until the last tree remains," said one woman.
In the meantime, the clearing has almost reached the protest camp. The Turkish state is using jammers to prevent the activists from communicating with the outside world. On Saturday, 24 people were detained during the protests, including lawyers Ismail Hakkı Atal and Leyla Bilgen. While the detainees were released, four of them were banned from travelling abroad for resisting the police.
Background
YK Energy, co-owned by Limak Holding and İÇTAŞ operating the Yeniköy and Kemerköy thermal power stations, has obtained the necessary permissions to open 740 decares of land within the Akbelen forest in İkizköy to convert it to an open coal mine providing lignite for the thermal power stations. The company had, however, met with the resistance of the İkizköy residents. 
A tree logging team from the Forest Administration entered the Akbelen forest at 6am on 17 July 2021, and cut dozens of trees before the İkizköy villagers reached the spot.
The villagers have been keeping a vigil in the forest ever since.