Tens of thousands in Paris demand France to act for justice
Tens of thousands of Kurds and their friends marched through Paris and said: "It is time to enlighten all massacres. Justice reputation in France are at stake. Now is the time: remove the PKK from the list of terrorist organizations."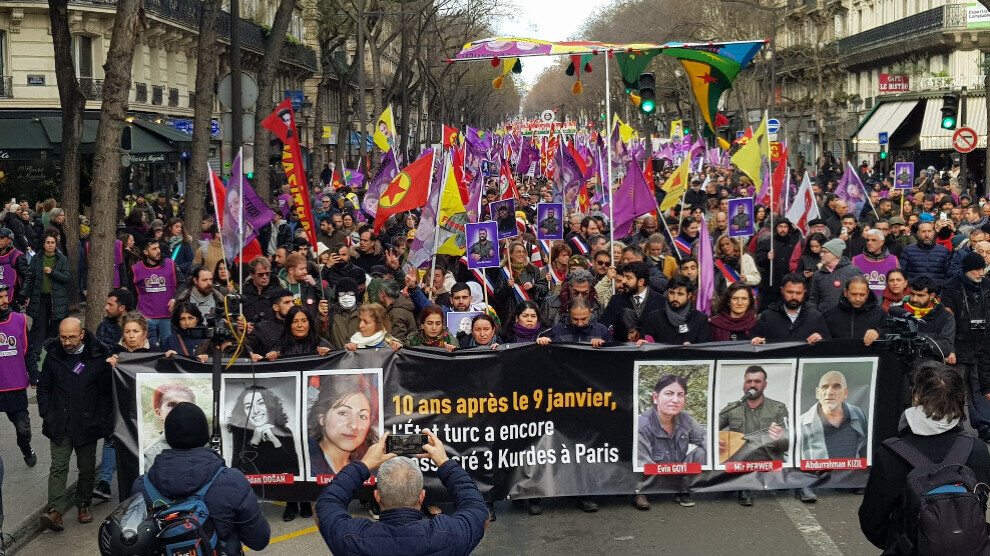 Tens of thousands of people demand that the murderers of Sakine Cansız, Fidan Doğan and Leyla Şaylemez, who were killed on 9 January 2013 in Paris, and Evîn Goyî, Mir Perwer and Abdurrahman Kızıl, who were murdered also in the French capital, on 23 December 2022, to be uncovered, and the decision of confidentiality in the case files to be lifted. People gathered in Gare du Nord from the early hours of the morning and walked up to the République square.
The President of the Paris Bar Association, the representative of the Young Vigil Movement, addressed the crowd.
The rally was the result of 5 different branches that all reached République square.
We will win, they will lose!
CDK-F Co-Chair Xane Akdoğan said: "I respectfully commemorate our martyrs of the Kurdistan Freedom Struggle in the persons of Evîn Goyî, Mir Perwer and Apê Abdurrahman. No matter how much pain we have, we are getting stronger. No matter what they do, we will win, they will lose."
Our revenge will be to continue the martyr's struggle
CDK-F Co-Chair Abdullah Ülmez thanked those who attended the march and rally and said: "Dear friends, we are going through a historical process. A herd of barbarians and murderers is attacking us. With your participation in this march and rally today, you have shown that no barbarian power can stand in the way of the Kurdistan freedom struggle. We commemorate Evîn Goyî, Apê Abdurrahman and Mir Perwer. At the same time, we commemorate Sakine Cansız, Fidan Doğan and Leyla Şaylemez who were murdered on 9 January 2013. We will continue their lawsuit. As CDK-F, our struggle will not end until these two massacres are revealed. Our greatest revenge will be to keep their struggle alive."
Polat: remove confidentiality order
CDK-F Foreign Relations Spokesperson Agit Polat criticized France-Turkey relations in his speech and said that "the invading Turkish state is not an ally but an enemy for France." Polat, who demanded the removal of the state secret on the first Paris Massacre file said: "You have to remove this state secret, you have no choice. Is it normal that justice has not been done after 10 years? The Kurds in Paris should be under the protection of the government. How long will your silent consent last? How long will your cooperation with Turkey last? The Turkish state is not your ally. If 9 January had been clarified, today's massacre would not have occurred. Today is the time; It is time to get to the bottom of all massacres. This is the honor of France. We are living in difficult times. Now is the time to remove the PKK from the list of terrorist organizations. If the PKK had not been on the list of terrorist organizations, the 9 January massacre would not have happened, the 23 December massacre would not have happened. Mr. Macron, you have to understand why the Kurdish people are so angry. You are the only authority to lift the state secret order. The Kurdish people will never kneel, we will insist on the demand for justice!"
Speaking on behalf of Sakine Cansız's family, her brother Metin said: "You are all Sakine's family." Evîn Goyî's cousin Zeynep Kara said: "As the family of Evîn Goyî, I welcome all who come. We were supposed to meet here. Although we are sad, we bow respectfully before her memory. Our pain is great; our hearts are bleeding. No matter how much the Turkish state and its partners try to kill us or destroy us, we will never kneel before it. If the French state is a friend of the Kurds, it should bring justice for Heval Sara, Rojbîn and Ronahî and Heval Evîn, Mir Perwer and Abdurrahman Kızıl."
Speaking on behalf of the family of Martyr Abdurrahman Kızıl, Cemal Turan said: "The history of our enemy is barbarism. It wants to slaughter us. You are resisting these massacres."
Speaking on behalf of Martyr Mir Perwer's family, Musa Alan said: "10 years ago, Sara, Rojbin and Ronahî were murdered in Paris. On 23 December, Mir Perwer, Heval Evîn and Abdurrahman Kızıl were murdered, in Paris. The force against us is barbaric. But we will never bow down. Just as Mir Perwer followed the path of Hozan Serhad and fought for the development and spread of Kurdistan art, we will follow the path of Hozan Serhads and Mir Perwer." Musa Alan read a song written by Mir Perwer.
Cemile Renkçay took the floor on behalf of TJK-E and said: "The martyrs were leading figures of the Kurdish struggle. Ömer Güney was a member of the MIT, he died in prison under suspicion. We did not give up on this struggle. France brought a state secret decision to prevent the prosecution of Turkish state officials. Our struggle will continue. We do not believe that Evîn Goyî was murdered by a racist. This is a political murder. As the Kurdish Women's movement, we will continue our struggle. The state secret decision on the 2013 file should be lifted."
We will liberate Kurdistan and Öcalan
KCK Executive Council member Zübeyir Aydar said: "Today, tens of thousands of Kurds, have gathered here for justice. We know the killers. Maybe the shooters were here, but those who ordered the killings were in Ankara. In 2013, our friends Sakine Cansız, Fidan Doğan and Leyla Şaylemez were murdered in Paris. This file has not been clarified. That's why the Turkish state planned the second massacre. We are determined; we will achieve freedom; we will liberate our Leader. We will liberate Kurdistan. Our martyrs are not only Kurds, we also have martyrs from other peoples. Two days ago, two MLKP members fell as martyrs in Hesekê. Ahmet Şoreş (Zeki Gürbüz) and Fırat Newal (Özgür Namoğlu) fell as martyrs in an invading Turkish state attack."
KCDK-E Co-chair Fatoş Göksungur emphasized that the French state was responsible for revealing these massacres and said: "The people of France should hold their state accountable for the two massacres carried out in their own country. The Women's Revolution will be our biggest response to the Turkish state."
Cordebard: We owe a lot to the Kurds
Mayor of Paris 10 Arrondissement, Alexandra Cordebard, expressed her sorrow for the massacres and emphasized that they stand with the Kurds as elected officials.
Cordebard said: "Let the 9 January and 23 December Massacres be clarified and justice provided. This massacre was committed not only on the Kurds, but also on Paris, the people of Paris and all France. I would like to tell you that we owe a lot to the Kurds. We are brothers and sisters. Kurds fought against ISIS for democracy and freedom. We exist because of you. Know that the elected representatives here are with you."
Martial: France must protect Kurds
Jacques Martial, deputy of Paris Mayor Anne Hidalgo, said: "We commemorate the Kurds who were massacred in France 10 years ago. We are with the Kurds. The Mayor of Paris, Anne Hidalgo, is always with the Kurdish people. We know that the Kurds are fighting for their rights, fighting for humanity. That's why we are with the Kurds. France must protect those who fight for humanity."
Panot: The PKK should be delisted
Mathilde Panot from the La France Insoummise (LFI) party said: "We are here with you today. On behalf of Mélenchon, I share your pain. There was a massacre 10 years ago. Again, on 23 December another massacre took place in Paris. We do not accept the media's claim that the murderer was a lone shooter. The PKK should be removed from the list of terrorist organizations. As long as the PKK is on the terrorist list, it will be exposed to attacks. Long live Sara, Rojbin, Ronahi. France must protect the Kurds. Every Kurdish person in our country should know that we are with them. Let me end with the slogan of Iranian women for women's liberation: Jin Jiyan Azadi!"
Jocelyne Dubois, National Secretary of the French Left Party said: "We want truth and justice. France must protect its allies and stand against Erdogan. There should be no attack on Rojava, the PKK should be removed from the list of terrorist organisations and Rêber Apo should be freed."
Laurent: Macron must take responsibility
Pierre Laurent, Vice President of the Senate of the French Communist Party, asked Macron to take responsibility in his speech. "On behalf of all Communist Party members and elected officials, we would like to express our solidarity with you here. We will always be with you for truth and justice. Macron must take responsibility in this matter and must disclose all the documents. If France does not clarify this massacre, it will be a great crime. If this is not clarified, it will mean a partnership with Erdogan. There should be an investigation into the massacre. In addition, the PKK should be removed from the list of terrorist organizations. This decision continues at the request of Erdogan. France should stop its relations with Erdogan."
Cohen: We will go to Kurdistan in February
Speaking afterwards, Communist Party Senator Laurence Cohen said: "This massacre targeted women, Kurdish women and resistance fighters. We have been with you for 10 years. Currently, 100 parliamentarians from all political parties have asked Erdogan to stop his attacks in Kurdistan. We will go to Kurdistan in February to show solidarity with the Kurdish people."