Turkey sending medicine to ISIS documented
ANF obtained documents of Turkey sending medicine to gangs like Ahrar al-Sham, Jabhat al-Nusra and ISIS.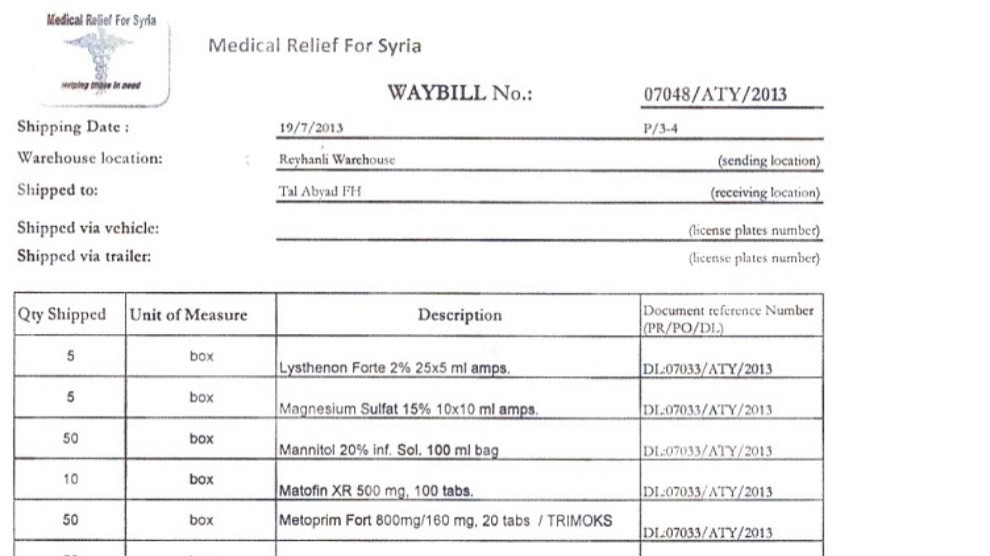 The Turkish state has offered all kinds of support for gangs like Ahrar al-Sham, Jabhat al-Nusra and ISIS as part of their invasion policies in Syria and to end the Rojava Revolution.
According to documents obtained by the ANF, on July 19, 2013 a pharmaceutical warehouse in Reyhanli, Hatay sent out large amounts of medicine to Tal Abyad (Gire Spi), controlled by said gangs at the time, under the guise of "aid for the needy".
FROM REYHANLI TO JIHADISTS IN GIRE SPI
The documents ANF obtained show a medicine shipment from the Reyhanli warehouse to Tal Abyad on July 19, 2013, one day before the gangs launched their attack against Kurdish forces. The shipment was sent by "A. Alshaban" (or Alsbaban) and approved by Firdavs Ogoev, with both their signatures.
The actual medicine that was sent was mostly to be used during or after surgery, painkillers and antibiotics to fight infections on wounds.
GANGS ENTERED GIRE SPI IN 2012
When Kurds took control over their own region with the Rojava Revolution, Turkey-backed gangs entered Tal Abyad on September 19, 2012. In 2013, Tal Abyad fell under control of jihadist gangs like Ahrar al-Sham, Jabhat al-Nusra and ISIS.
In this process, Kurds in Tal Abyad had founded the Jabhat al-Akrad to protect themselves from gangs in Raqqa, Shehba and Manbij and they were officially part of the FSA.
ATTACKED KURDS ON JULY 20
The surgery-oriented medicine and the shipment being sent out on the day the attack against Kurds started points to preparations for war. Turkey is exposed once again as the financer and planner of the gangs' war against Kurds.
Gangs threatened Kurds to leave Tal Abyad on July 19 through mosque loudspeakers, and then homes were raided. The gangs killed the men and kidnapped women and children.
YPG announced that 70 people were killed and 400 women were abducted in the attack between July 20 and August 5. Kurds were forced to migrate by the massacres gangs committed with support from Turkey, and Gire Spi was subjected to ethnic cleansing.