Istanbul: Journalists demand the release of their colleagues
In Istanbul, journalists have taken to the streets to demand the release of Sadiye Eser, Sadık Topaloğlu and Yusuf Topaloğlu. The three journalists have been arrested on terror charges earlier this week.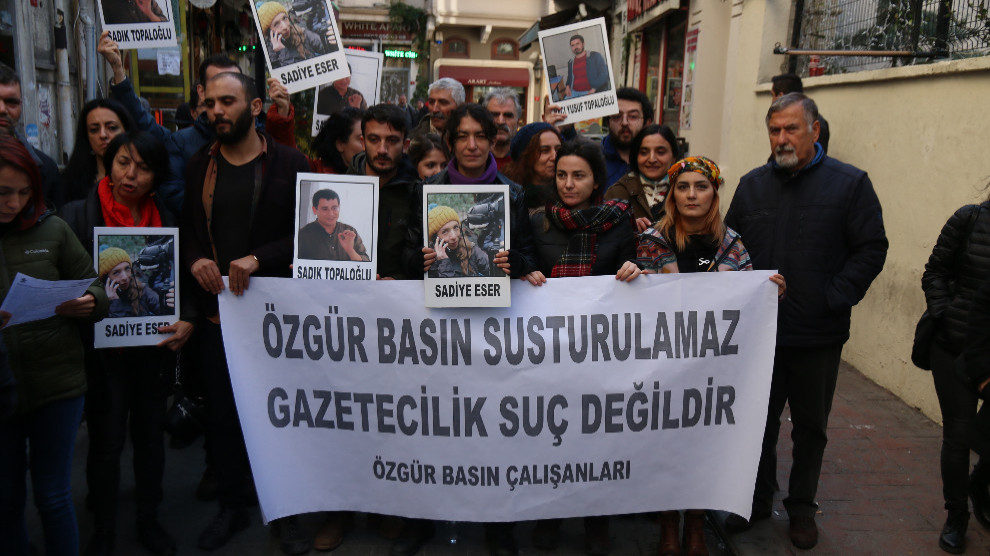 Journalists have demanded the release of their arrested colleagues in Istanbul. Sadiye Eser and Sadık Topaloğlu of the Mezopotamya Ajansı (MA) news agency were arrested on Tuesday in Istanbul on suspicion of membership in a terrorist organisation. The arrest warrant is based on the testimony of a key witness using the Turkish "Law of Repentance". Yusuf Topaloğlu worked for the Kurdish news agency DIHA (Dicle Haber Ajansı), which was banned by an emergency decree, and was arrested on Thursday.
Their colleagues met today in front of the Istanbul office of the Human Rights Association IHD to show solidarity with the arrested colleagues and demand their release. The rally was also attended by family members of the journalists and representatives of the DISK trade union federation and the press and printing union Basın-İş.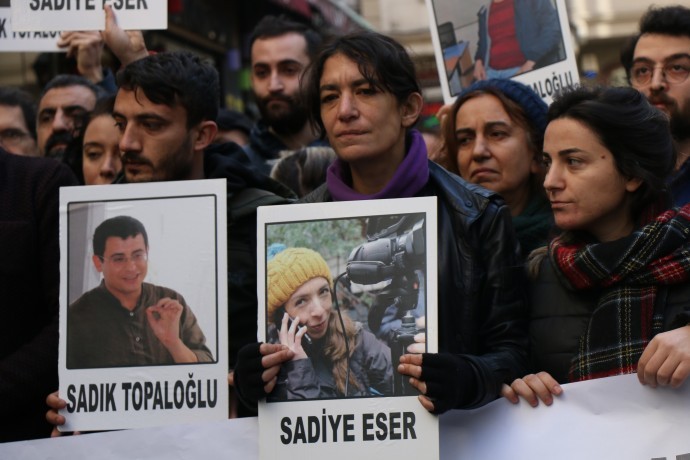 MA Correspondent Erdoğan Alayumat spoke at the rally and said: "We have never been silent and as journalists we will continue to tell the truth to the people."
Taylan Öztaş, a correspondent for the newspaper "Özgür Gelecek", then read a joint statement in which he referred to the bombing of the newspaper "Özgür Ülke" 25 years ago in Istanbul. "We are here on the streets today to protest against the arrest of our colleagues. At the same time, we would like to say once again that the free media will not be intimidated under any circumstances. In Turkey, they try to silence the free press through repression. We will not remain silent. We will continue to report the truth. As we do our work, we will not forget our illegally arrested colleagues. We will continue our fight for the release of Sadiye, Sadık and Yusuf, because journalism is not a crime. The arrest of our three colleagues is a direct attack on the Kurdish media. However, we will not let it get us down, we will continue."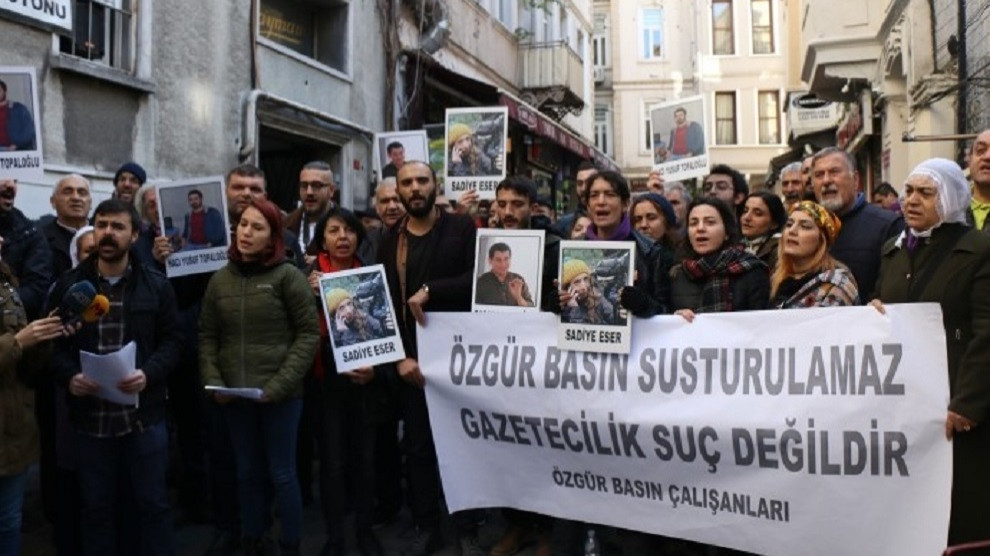 The Free Journalists' Initiative (ÖGI) announced on December 3 that 139 journalists are currently in prison in Turkey due to their journalistic activities and said: "It is impossible to speak of freedom of the press in Turkey".
After the ÖGİ report for the month of November, three more journalists have been imprisoned; Mesopotamia News Agency (MA) reporters Sadiye Eser and Sadık Topaloğlu and DIHA correspondent Hacı Yusuf Topaloğlu who were also accused of "membership to a terrorist organization" because of their journalistic activities.
RELATED NEWS: