Delegation meets UNHCR representative in Geneva, demanding action for Maxmur
Swiss politician and doctor Beppe Savary-Borioli, together with representatives of the Kurdish community, called on the UNHCR in Geneva to fulfil its commitment to the Maxmur refugee camp besieged by the Iraqi military.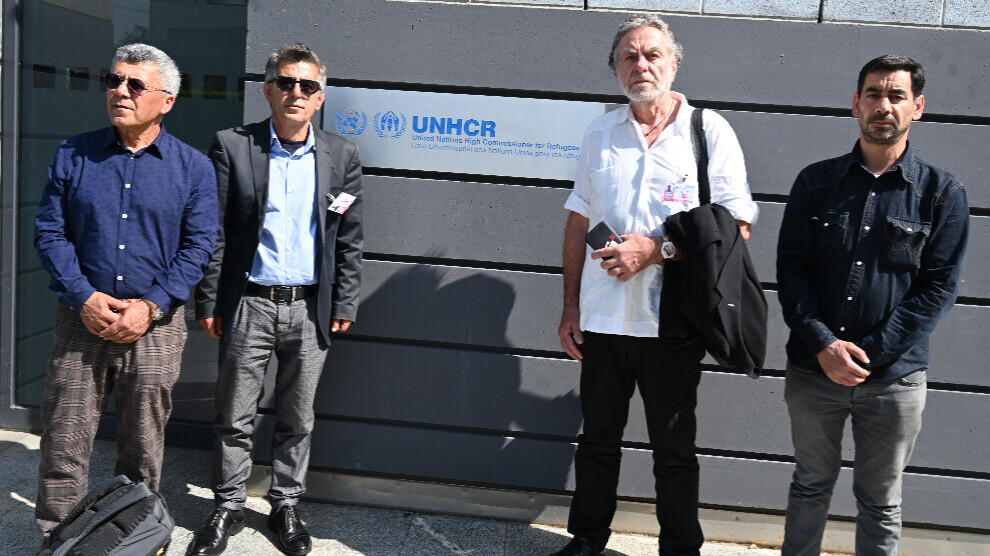 On May 20, the Iraqi army, accompanied by representatives of the Iraqi Ministry of Interior and Defence, arrived in Maxmur without prior notice to fence the camp with barbed wire. The military arrived with dozens of armoured vehicles to enforce the orders of the government in Baghdad. In addition to fencing, this includes stationing Iraqi police and military units, closing all entrances and exits except for the main access, installing military concrete barriers on the access road and setting up observation towers. The residents of the self-managed camp are against the militarisation of Maxmur and are standing guard against the siege.
A delegation of the Democratic Kurdish Community in Switzerland (CDK-S) visited the United Nations Refugee Agency (UNHCR) in Geneva and called for immediate intervention against the military siege of Maxmur Camp in southern Kurdistan (northern Iraq). Part of the delegation, besides CDK-S representatives Ahmet Yaman and Ramazan Baytar, was Swiss politician and doctor Beppe Savary-Borioli, who was in southern Kurdistan last autumn on behalf of IPPNW to investigate chemical weapons use by the Turkish army.

In conversation with Alex Tyler, UNHCR representative for the Near/Middle East and North Africa, the delegation informed about the situation in Maxmur Camp and reported on the determined resistance of the people against the militarisation of the refugee camp.
After the conversation, Ramazan Baytar said: "We have emphasised that the Iraqi government is responsible for the security of the people in Maxmur, but it is not fulfilling this responsibility. Groups like ISIS are still present in the region. Different minorities and religious groups fight each other. The area is also a conflict region of international hegemonic powers. Iraq is not providing security for the residents of the camp."
It was conveyed to UNHCR representative Tyler that the military siege of the camp by the Iraqi army, which has been ongoing for a week, and the embargo imposed in 2019 are unacceptable, Baytar continued: "We also pointed out that UNHCR and the United Nations have an obligation to ensure the safety of the population," Baytar added.
Beppe Savary-Borioli stated that Tyler had agreed to forward the delegation's demands.