European delegation to observe elections in the Kurdish region
92 people who came from Europe on the invitation of HDP will observe tomorrow's local elections in the Kurdish region.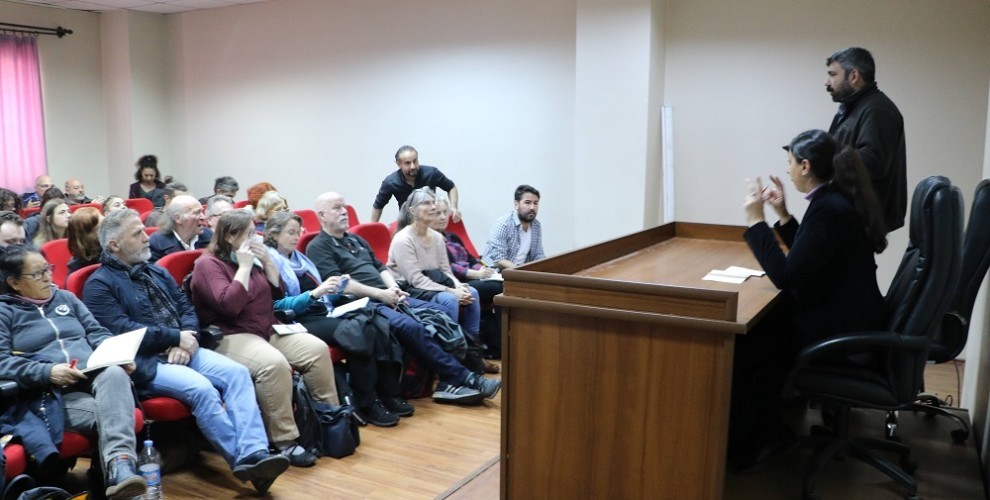 Parliamentarians, bureaucrats, civil society organizations representatives and journalists are among a 92-person delegation from Europe and other countries who have arrived in North Kurdistan to observe Sunday's local elections on the invitation of HDP Co-chairs Pervin Buldan and Sezai Temelli.
The delegation includes members of the German Green Party, Left Party Hamburg group and youth organizations, Swedish Social Democratic Party, Italian Association AVK and Trade Union COBAS, English Friendship Group, French Left Party, Brittany Friendship Group, Norwegian Solidarity Group and Red Party, Swedish Left Party President and deputies and Zurich Delegation members.  
14 PEOPLE FROM THE DELEGATION DEPORTED
HDP Foreign Relations Commission Co-spokesperson and Batman MP Feleknas Uca stated that Turkey has deported 14 people from the delegations that came to the Kurdish region before the Newroz celebrations to observe March 31 elections. Uca said the delegations consider Sunday's elections a referendum.
Remarking that the foreign delegations have been subject to obstructions on grounds of "accreditation", adding; "In the case of an official accreditation, the delegations are meant to be sent through the assignment of their countries. In that case, the reported cases of fraud and violations in elections will need to be accepted. Despite the obstructions, they will observe the voting. They will also see the enthusiasm of the people."
"I WILL CONVEY OUR OBSERVATIONS"
German Left Party Federal MP Sabine Leidig said they have come to the Kurdish region to support the HDP, adding; "We are in solidarity with HDP which is an exemplary for us too. Our solidarity will continue. We support HDP's struggle for freedom and democracy. We are here to support them in situ. I will convey our observations to the German public opinion and the Federal Assembly."
"WE HAVE THINGS TO LEARN FROM HDP"
Leidig stated that there is an intense interest in Germany in the local elections of Turkey and continued; "There is great interest especially in the Left Party. We have things to learn from HDP over the strong role of women in the party. We will convey this to our party too. Turkey needs a change. Erdoğan needs to see that he will not be able to imprison people anymore."
German Left Party Federal MP Hakan Taş said the following regarding the elections held in Turkey on June 24 in 2018; "Firstly, delegations were not allowed into election locales. They were obviously hiding something. Later as election results started to come from many cities, we witnessed irregularities and it looked like votes had been stolen. We conveyed all these to the Federal Parliament. June 24 elections were not held under equal circumstances."
Taş said there are not equal conditions for March 31 elections either, pointing to the Turkish mainstream media's coverage of Erdoğan all the time. "We want to change this. We want democracy to prevail in Turkey. We want Turkey to be ruled by a democratic government. For this reason, voters should protect their votes and ballot boxes."
"RED CARD FOR ERDOĞAN"
Remarking that Germany is pursuing a double politics towards Turkey, Taş added; "The European countries are doing the same. It is time Europe spoke out against dictator Erdoğan. This is what we are fighting for. A red card must be shown to Erdoğan instead of playing a double game. The pressure on the government should be increased and it should be made sure that Turkey turns back to a democratic process."