Corbyn meets with activists supporting Kurdish hunger strikers
Jeremy Corbyn has met with activists close to the Kurdish hunger strikers in Newport.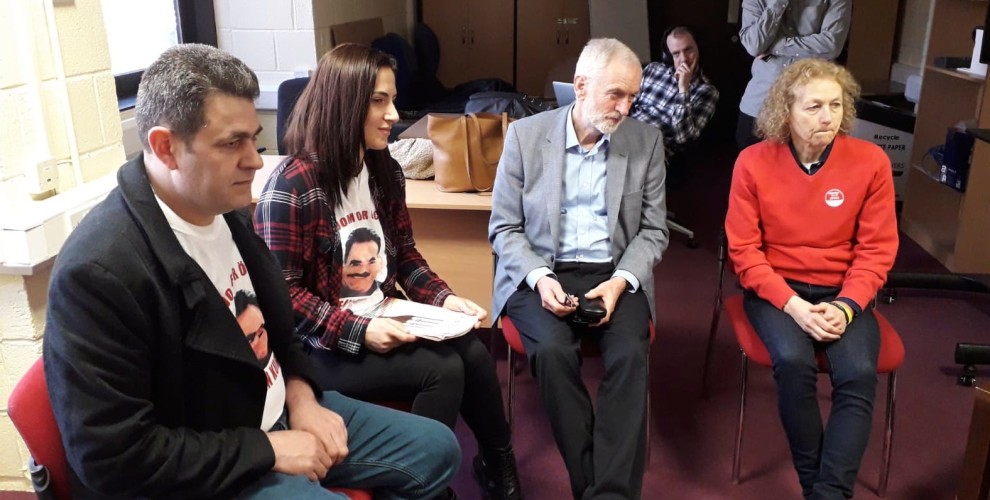 On 30 March Jeremy Corbyn, the Leader of the Labour Party, met with activists working closely with Imam Sis, a Kurdish hunger striker on day 104 (since 17 Dec 2018) protesting the isolation of imprisoned Kurdish leader, Abdullah Öcalan. The activists have also been working with three Kurdish activists in London who have been on hunger strike since 14 March 2019.
Corbyn expressed sympathy with the hunger strikers and agreed to raise the issue with the Foreign Secretary as well as to inform the Labour Shadow Cabinet on the matter. He expressed a will to visit the three hunger strikers in London and was surprised about the lack of media attention on the hunger strikes.
He asked about Imam Sis' physical condition and was informed that Imam's physical health has deteriorated. Diane Abbott, the Shadow Home Secretary, was also present at the meeting and expressed concern at Imam's condition and agreed with Corbyn that it would be possible for senior Labour figures to visit the three hunger strikers in London. Connections were made between Corbyn's team and activists. After the meeting Corbyn spoke at a Labour rally and highlighted the importance of Abdullah Öcalan's involvement in any peaceful settlement in the Middle East.
At the rally in Newport, Jeremy Corbyn recounted his meeting with activists close to Imam Sis, noting that what the hunger strikers are "… campaigning for is for the rights of lawyers to visit Ocalan in prison and that in turn will help to bring about a peace process that can ensure the Kurdish people achieve their rights and we end the ghastly wars that have gone on for so long which have lost the lives of so many Kurdish people. I represent a constituency that has many Kurdish people. I've been proud to work with them many years, as indeed has Diane Abbott - our Shadow Home Secretary who also represents a constituency that has many Kurdish people in it."
"It's about our approach to human rights. About our approach to justice. If you walk by and ignore the abuse of a people, as the Kurdish people has been abused in every single one of the countries where they happen to be living, then eventually it becomes a very serious problem and eventually more people lose their lives."
"The thing to do is to support human rights, support peace, support justice, and be a motivator for justice which will in turn bring about peace. … Human rights, peace, justice, democracy: those are the issues that motivate us as a party."