Thousands marched to the International Coalition base in Kobane
Thousands of people marched to the International Coalition base in Kobane to protest Turkish threats of invasion.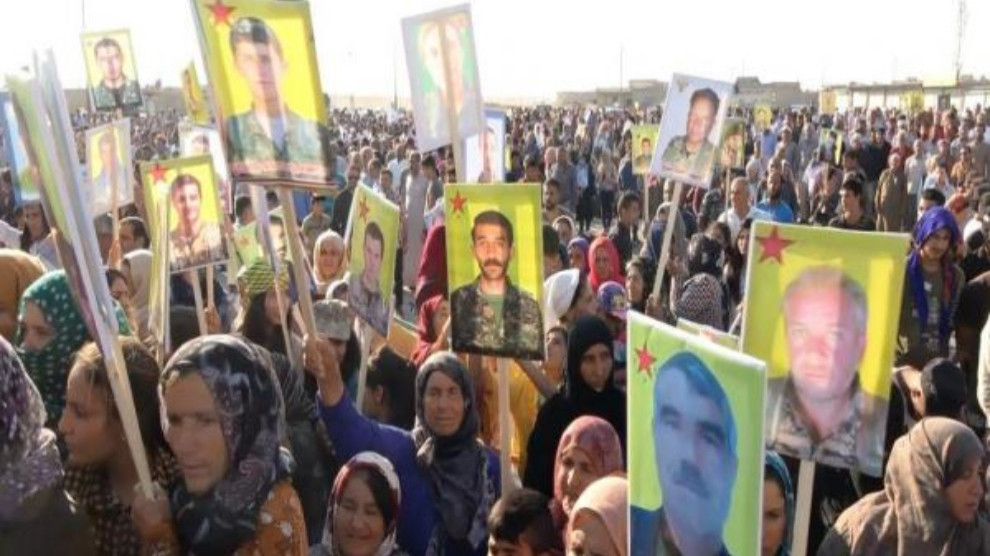 Demonstrations are increasing to protest the new threats issued by Turkey to invade Rojava and South Kurdistan.
Demonstrations are taking place on a daily basis in the Federation of North and East Syria.
Thousands of people from Raqqa, Deir ez-Zor, Tabqa, Manbij, Girê Spî and Kobanê marched to the International Coalition base in the canton of Kobanê. This base is located in the southern village of Xirbe Eşk in the canton.
Many executives including Ebdilhamid Mihbaş and Bêrîvan Xalid, co-chairs of the Executive Assembly of the Autonomous Administration of North and East Syria, were present at the march.
Mihemed Şahin, deputy co-chair of the Executive Council of the Euphrates Region, said "We did not come here to ask anything. The countries in Europe, Asia and other continents are safe thanks to us."
Şahin added: "This is the time for international forces to take action and fulfill their responsibilities. These people, our people, have given thousands of children in the fight against terrorism. We represent the future of the peoples of the Middle East, demonstrating that they can live peacefully without war."
Bêrîvan Xalid said that the Turkish state is supporting terrorism in Syria and Libya.
Syrian Future Party President Ibrahim El Qeftan said that the Syrian government should clarify its attitude towards the Turkish state.
Qeftan also addressed the Coalition Forces and asked them to play their part in defeating the "terrorist states" in order to achieve peace.
Qeftan said that all future agreements should be based on peacebuilding.