11-month old ISIS orphan handed over to Danish delegation
The autonomous administration of North and East Syria has handed over an eleven-month-old baby to Denmark. The parents belonged to the jihadist militia "Islamic State" and died.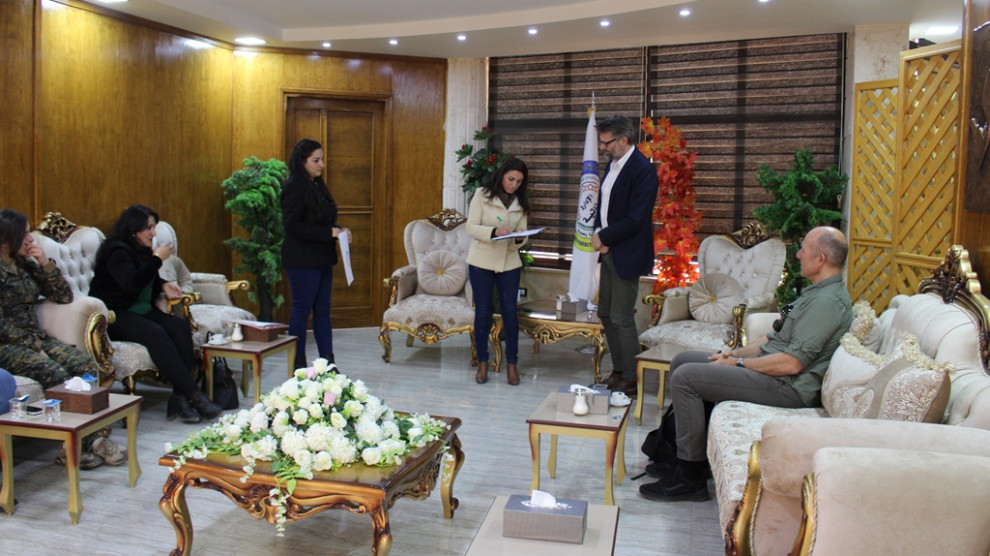 The autonomous administration of North and East Syria has handed over to Denmark an eleven-month-old baby whose parents were members of the terrorist organisation "Islamic State" (ISIS) and possessed Danish citizenship.
The transfer of the baby to a delegation from the Danish Ministry of Foreign Affairs chaired by Kristof Vifik from the Consular Affairs Department took place on Wednesday at the Foreign Relations Office of the Autonomous Administration in Qamishlo.
The Danish delegation arrived in Rojava from Southern Kurdistan via the Sêmalka border crossing. The delegation was received by Foreign Affairs Bureau Deputy Co-chair Derva Ebîr Elyna, Women's Committee Representative Newroz Xalid, Foreign Affairs Bureau Executive Board Members Sîmav Yûsif and Stêr Yûsif and YPJ Foreign Relations Bureau Representative Aytan Isa.
After a meeting between the representatives of both sides, which was closed to the press, the baby was medically examined and then handed over to the Danish representatives.
At the end of June Denmark had taken back a 12-year-old child whose parents are imprisoned in Northern Syria for ISIS membership.
In recent months, several foreign women and children within ISIS have been transferred to their countries of origin.
In early September, Autonomous Administration officials handed over three children born into ISIS to Nigerian government officials.
Four ISIS orphans were handed over to Germany in August, six to Belgium and 12 to France in June. 5 other children had been sent to France in March.
In late May, 148 women and children of ISIS members were returned to Uzbekistan.
The Autonomous Administration Foreign Relations Bureau has handed over 5 children to Norwegian government authorities on 3 June.
The autonomous administration of northern and eastern Syria handed over two women and six children with US citizenship to the United States at the beginning of June. The repatriation of women and children from the battered "Islamic State" had come at the request of the US.
In late June, Denmark retrieved a twelve-year-old child whose parents are imprisoned in Rojava and who are members of the Islamic State (ISIS) jihadist militia and have Danish citizenship.
The Sudan took back two women and some of their children. Kazakhstan took back 5 gang members, 11 women and 3 children.