Newroz Ehmed: Turkey threatens the whole world and must be stopped
Senior SDF commander Newroz Ehmed remembers female fighters Jiyan Tolhildan, Roj Xabûr and Barîn Botan killed in a Turkish drone attack and warns that Turkey must be stopped as it threatens the whole world.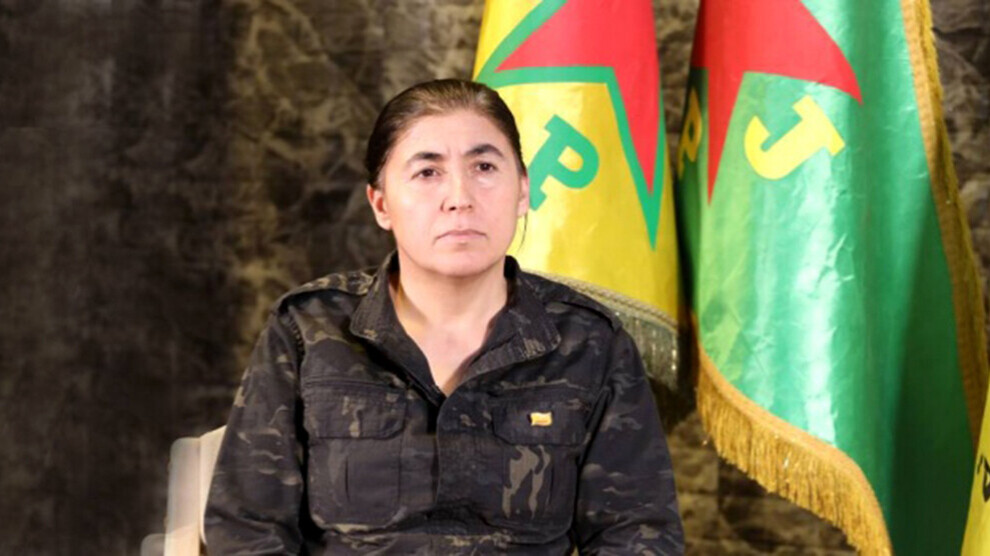 On 22 July 2022, a Turkish drone strike killed Syrian Democratic Forces (SDF) and Counter-Terrorism Units (YAT) commander Jiyan Tolhildan, YPJ (Women's Defense Units) commander Roj Xabûr and YAT (Anti-Terror Units) member Barîn Botan. Jiyan Tolhildan was the area commander of the YPJ for the Deir ez-Zor region in 2019. At the time, she led the fight in the operation "Cizîrê Storm ", in which a final end was put to the territorial rule of the "Islamic State" (ISIS) in al-Bagouz.
Newroz Ehmed, a member of the general command of the SDF, remembers her comrades-in-arms Jiyan Tolhildan, Roj Xabûr and Barîn Botan.
"She was as lively and energetic as her name"
Newroz Ehmed recalls the great merits of Jiyan Tolhildan in founding and building the YPJ who always fought at the front: "She took her place at the front in Serêkaniyê, where the first resistance in Rojava took place. For the first time, she was in the front line there in the great fighting with the Al-Qaeda groups. After that, she took her place wherever there was resistance. She fought in Cizîrê, Şehba, Aleppo, Afrin and Kobanê. She took part in the fight against ISIS everywhere. Her name was Jiyan (Life) and she was full of life like her name. She was always energetic, lively and youthful - like her name."
"Even under the most difficult conditions, she kept her morale"
Newroz Ehmed further recalls Tolhildan: "Even in the most difficult conditions, even when the situation got really bad, she knew how to turn it around. She was one who could turn the most difficult situations into victory. She was a commander. She led the fighters, whom she always called 'my friends', and showed them the way. In the most difficult places, she would first put herself in danger without hesitation. With a thousand efforts, she laid the building blocks of the revolution on top of each other. She left an unforgettable impression on her friends. She gave her best as a commander, as a warrior and as a teacher. She always taught her comrades something new. She was not intimidated by any difficulty. The word 'can't' did not exist in her life. Like Jiyan, Roj Xabûr and Barîn Botan took part in the most difficult struggles and were pioneers. From the first step they took for the revolution to their last step, they were unhesitatingly oriented towards victory. The three friends complemented each other. They knew no obstacles." Ehmed emphasises that the martyrs have left behind the task of expanding the revolution and the struggle: "We will embrace the legacy left to us by our friends more than ever. This is a duty to us. We are more than ever ready for tough resistance in the new year of the revolution."
"No one can impose a life of slavery on us"
Newroz Ehmed emphasises the central role of women in the revolution, saying, "If being a woman means life and freedom, women should say: 'I live now' and lead the revolution. We women have created today with great efforts and sacrifices. No one can force us to take a step back. No one can force a life of slavery on us anymore. We will not accept a life without equality and justice. As women, we will defend the legacy of Jiyan Tolhildan, Roj Xabûr and Barîn Botan. It is time to defeat the invaders and the fascist enemy that attacks women and children and commits massacres every day. These attacks must not scare us. No one can make a people who have made so many sacrifices and created a revolution from nothing take a step back. Our message to the invaders: You used mercenaries, you mobilised your intelligence, you fought a dirty war, but you failed."
"We do not regret the fight against ISIS"
Referring to the attacks, Ehmed continues, "Our only fault is that we are standing up for our freedom," stating to the international community, "We don't regret fighting ISIS, but what are you doing while we are doing our job?"
"Condolences are not enough - Turkey must be stopped"
Ehmed criticises the US Armed Forces Central Command for publishing a message of condolence for Jiyan Tolhildan: "It is not enough to publish a message of condolence. The relatives and especially the mothers of our martyrs ask us, 'You fight together for the whole world, but what do these forces give you in return?' Is the reward that our women commanders and fighters fall every day? Is their crime that they are fighting ISIS?' Why does no one ask what ISIS is doing in the areas controlled by Turkey? It is not enough to condemn the attacks. Turkey is strengthened by this and continues its attacks. International powers that claim to fight for human rights should put a stop to this. If they react more strongly, Turkey will not dare to attack."
"We want to live freely on our land"
Ehmed calls for Turkey to be tried for its war crimes and says: "The AKP/MHP government led by Erdoğan must be tried and held accountable for its crimes against humanity. We need a strong voice because this is not just an attack on the Kurdish people. Everyone is being targeted. New drone attacks are taking place every day. We are not just calling for the closure of airspace. Where are the rights of these peoples who want to live freely on their own land like everyone else? We have fought against ISIS before the eyes of the whole world and we will continue to do so. It is not enough to just say, 'We share your pain'."
"There is the greatest danger"
Newroz Ehmed warns that Turkey is a danger to the whole world and concludes: "It is time to stop Turkey. It has become a monster that commits war crimes and terrorises the whole region. Turkey is committing crimes not only in Syria, but also in Iraq, Azerbaijan, Lebanon, Yemen and many other places. This is something we must fight against together. We can only pay our debt to our fallen friends by spreading the revolution of Rojava all over the world. At this time, the danger is greater than ever. All our people should be sensitive. We have our security forces and defence units. We will defend ourselves together with our people. Our people must rally around their fighters. Together we will repel all attacks and achieve victory."