Thousands bid farewell to YPJ commander in Shehba
Thousands of people bid farewell to YPJ Commander Sosin Birhat who fell martyr in a Turkish attack in Til Temir last week.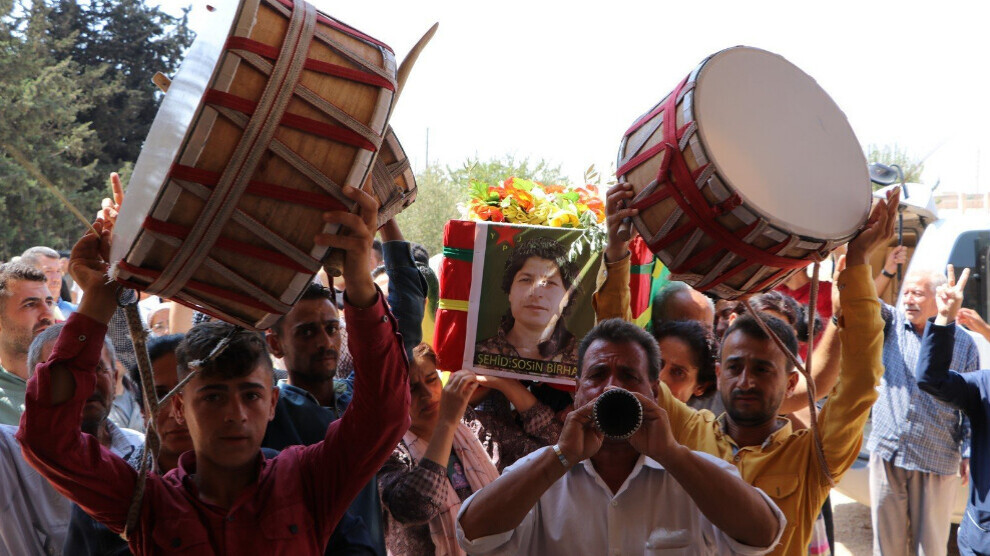 Sosin Birhat (Sosin Mihemed), who was a member of the military councils of the Syrian Democratic Forces (SDF) and the Women's Defense Units (YPJ), was among the four fighters killed in a targeted attack by the Turkish state in Til Temir last Thursday. The attack also claimed the lives of Egîd Girkêlegê, a commander of the Til Temir Military Council, and Til Temir Military Council fighters Rubar Hesekê and Seyfullah Ehmed.
Sosin Bîrhat was from Afrin and participated in every phase of the revolutionary process in Rojava and the liberation offensives in northern and eastern Syria. As a YPJ commander, she participated in the fight against ISIS and the Turkish occupation on the frontline.
Thousands of people gathered in Sheikh Maqsoud neighbourhood of Aleppo on Monday to join the funeral procession for the YPJ commander to the Shehba Canton.
In Shehba Canton, in accordance with Martyr Sosin Birhat's will, people received the funeral convoy with a flourish of trumpets, waving the flags of YPJ and YPG.
The YPJ Commander was then laid to rest in the Şehiden Berxwedana Serdeme Cemetery of Martyrs in the Ehres district.
RELATED NEWS: