Urgent appeal for Afrin IDPs in Shehba
A humanitarian disaster is looming in the horizon, awaiting Afrin IDPs here in Shehba, warn the organisations in North-East Syria.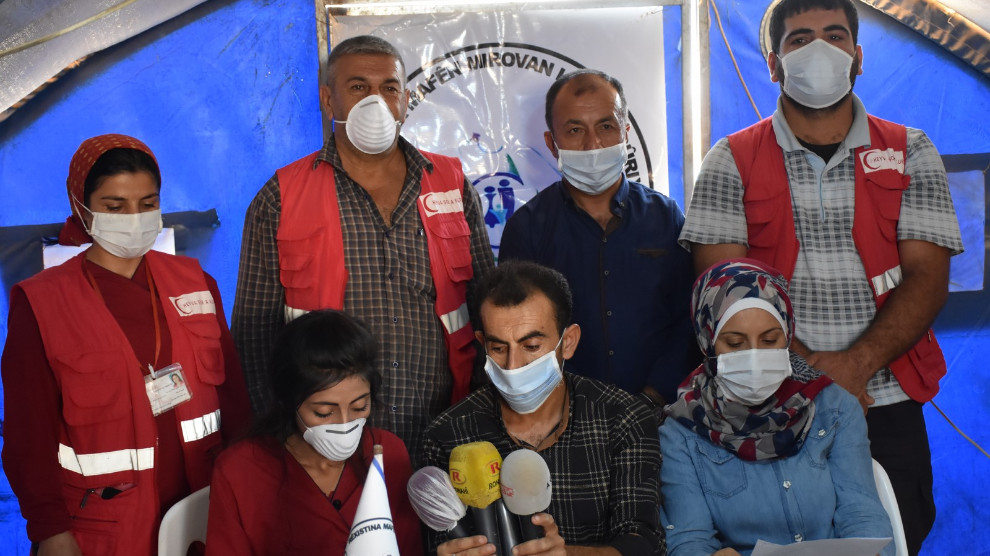 The Human Rights Organization of Afrin-Syria, the Shehba branch of Kurdish Red Crescent (Heyva Sor a Kurd) and the IDP camps in Shehba region of northern Syria have issued an urgent appeal to international bodies. The appeal calls on the concerned organizations to play their humanitarian and moral role towards the Syrian people in general and towards Afrin IDPs in Shehba in particular.
The urgent appeal to the UN and its health and humanitarian organizations to rescue Afrin IDP's from Covid-19 reads as follows:
"The calamitous disaster and catastrophic situation awaiting Syrians that the United Nations and other organizations had warned about, concerning the possibility of an out-of-control outbreak of the deadly Corona virus in Syria, has become a reality now.
Miserable as they are Syrians, in general, face a black fate as the ten-year-long conflict is still raging, leaving the country in ruins and tatters.
The infrastructure has been destroyed, people impoverished while service and health sectors are fragile and weak, unable to bear the heavy burden of this killer pandemic.
Today, this deadly virus is wreaking havoc throughout the globe with 20 million active cases and a death toll that reached 720 thousand while researchers are relentlessly in hot races with time to find vaccines against Covid-19.
These are hard times as most countries have taken strict measures to contain this deadly virus which is spreading rapidly claiming thousands of lives every day.
So far, with no effective vaccine at disposal, the best way to save lives is to avoid getting infected by breaking the chain of infection transmission through social distancing and taking precautionary measures.
VULNERABLE AFRIN IDP'S AND COVID-19
Powerless Afrin IDPs in Shehba are the most susceptible to this killer virus with 10 live-infected cases and two deaths for the past few days.
The Shehba region is a cramped enclave home to 200,000 Kurdish IDPs from Afrin Region in squalid refugee camps and war-torn towns and villages plagued with landmines, lacking the simplest necessities of life in light of the absence of governmental and international support for these camps. (Medical, sanitation and social services), exacerbating the suffering of those displaced people of Afrin, at a time hundreds of cases of infections with Covid-19 have recently been discovered in the nearby city of Aleppo.
The Shehba area is besieged from all sides except for a single crossing linking it to the city of Aleppo but draconian measures are needed to bring in medical supplies or take out patients to Aleppo.
The spread of the virus may accelerate and reach its peak in late August and early September.
A humanitarian disaster is looming in the horizon, awaiting Afrin IDP's here in Shehba.
There is only one small hospital, Afrin Hospital, lacking the necessary medical equipment, qualified staff, ambulances and supplies. The hospital provides free of charge medical services, receiving hundreds of patients daily.
"Gloves, face masks, gowns, and other personal protective equipment, ventilators, in vitro diagnostics, oxygen containers, necessary drugs are all desperately needed", says hospital director.
The Kurdish Red Crescent has also few small medical points here run by volunteers, but they lack resources, personnel and medical supplies with the presence of many epidemics such as hepatitis, leishmaniasis and other skin diseases rampant in this forgotten region.
According to all international laws "all states and individuals have the right to access health care, the right to access information, and the prohibition of discrimination in the provision of medical and other services".
Therefore, we appeal to all UN health human rights and humanitarian organizations, especially, the World Health Organization, the UNICEF, the International Red Cross and all relevant health organisations to play their humanitarian and moral role towards the Syrian people, in general, and towards Afrin IDPs in Shehba, in particular, to provide urgent medical and relief aid in order to mitigate the spread of this virus, so that we may reduce the size of the humanitarian disaster that is sure to befall the region soon."
RELATED NEWS: