Dr Nebbo: We are protecting people with our limited resources
Shehba is trying to protect itself against the continuous attack by the Turkish state and its mercenaries while stretching its resources to take measures to prevent the coronavirus pandemic.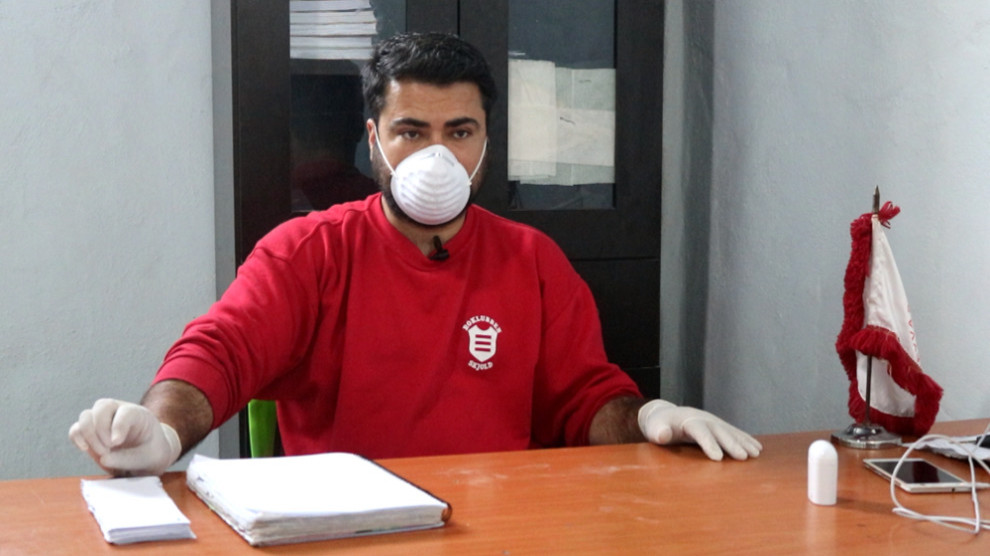 Heyva Sor a Kurd member, doctor Hesen Nebbo told ANF that no aid has been received by the region so far. Doctor Nebbo added the consequences for the refugees living in the camp if the coronavirus reaches the region will be severe.
Doctor Nebbo reminded that the region has been a war zone for the past 8 years and is already a good environment for diseases.
Pointing out that the coronavirus cases are seen in regions close to Shehba, such as Azaz, Afrin, Nubil and Zehra, dr. Nebbo said: "We have to take the highest level of precautions to protect the people in the regions of Shehba and Sherewa, but unfortunately the existing measures are not sufficient.
The Autonomous Administration has declared a curfew, and we carried out informative activities. We set up checkpoints to prevent people from Nubil and Zehra to enter Sherewa. We also established two checkpoints on the Haleb road in the district of Ehdes. We check the temperature of all those arriving. These devices are not that effective, but this is the only thing we have."
Prevention before lockdown
Doctor Nebbo said: "Before the lockdown was declared, we wandered around villages, districts and all neighborhoods with announcement cars to warn people to stay at home and to tell them how they could be protected against this disease and the risks of contamination.
We have created a team for emergency cases. This team will visit the patient at home in the Sherewa region at first and if the suspicious symptoms appear, the patient will be brought to the hospital. We built a place for emergencies in the hospital. Patients will be treated away from the rest of patients."
Camps are at great risk
There are many refugee camps in this area, and they are at great risk. "We banned entry and exit to camps. - said doctor Nebbo - We placed control teams at the camp entrances. The teams take people's temperature and run a health point, which is open 24 hours a day. We do not accept patients other than emergency patients. We had serious patients before. We visit them in their tents and take them to the hospital if their situation gets worse. Our permanent teams inform the people about this virus."
Measures are not enough
Despite the huge efforts, doctor Nebbo said that "these measures are inadequate; none of them are enough to prevent an outbreak. We have many shortcomings in technical aspects and in terms of healthcare materials. We have not been helped by any healthcare organization or humanitarian institution. We lack ventilators and gloves and masks are insufficient. We do not have specialist doctors and medical staff."
Call to WHO and Syrian regime
Doctor Nebbo reminded of the particular geographical position of the region of Shehba and said that "because of our position we have difficulty in ensuring our needs. There are checkpoints of the Syrian regime and they do not allow material arrivals. A permanent permission is required and roads are being closed. In case of an outbreak here, we figure that at least 10-15 percent of patients would required to be connected to ventilators, but we only have 5-6 respiratory devices."

Doctor Nebbo asked "both the World Health Organization and the Syrian regime to help this region."
RELATED NEWS: