ISIS prisoner from Palestine: We were treated in Istanbul
SDF-detained Palestinian ISIS jihadist Muhammed Balusha claims that he was accommodated in an Istanbul ISIS house in 2016 and 2017 and, like other members of the terrorist militia, received medical treatment in a private hospital.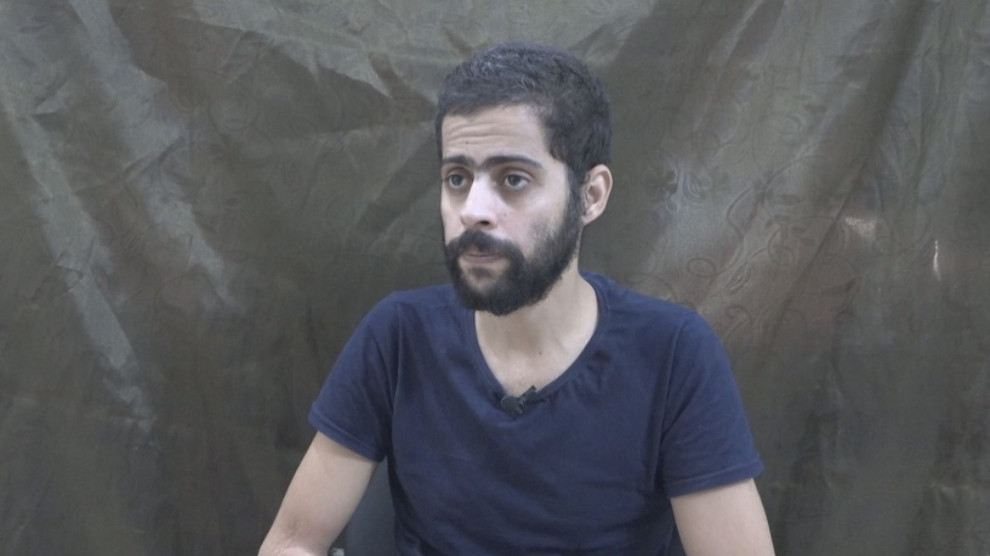 The links between the Turkish state and the ISIS are becoming increasingly clear through the statements of jihadists jailed by the Syrian Democratic Forces (SDF). Islam Ahmed Muhammed Balusha (Talha al-Gazzawi), a member of the terrorist militia, speaks of open support from the Turkish state until 2015 and continued assistance and cooperation also in the period following.
Balusha was born in 1991 in Gaza. His father had worked in the Palestinian police department and his elder brother for the secret service before the Hamas election victory in January 2006. Between 2004 and 2008, Balusha claims to have been in the mosques of Hamas and distributed leaflets. In 2008 he met the Palestinian Salafist leader Mahmoud al-Talib. The following year, he joined the Palestinian al-Qaeda offshoot Jund-Ansar-al-Allah and was arrested during a mosque raid. After three and a half months in prison, he was released because of his proximity to Hamas. Till 2010, he remained back in the mosques of Hamas.
In 2010 Balusha meets al-Talib Yusuf Muktad and joins the group Ansar Sharia. Balusha reports that in 2011 he was convinced of the idea of ​​the "Islamic State". He is then impressed by how his friend Hamas commanders joined the ISIS in 2012, travelling Egypt to Syria via Turkey.
After Mahmoud al-Talib gets imprisoned during that process, Balusha stays with his family for two years. He receives news of his friends' deaths and watches as the rest goes to the Egyptian Sinai Peninsula to fight.
Turkish Policeman: Go and join the ISIS
In 2014 Balusha decides to join the ISIS and gets a visa for Turkey. Finding an opportunity in the meantime as the Gaza war continues, he goes to Egypt. With his friend Shadi Davudi, he travels from Egypt to Istanbul's Ataturk Airport in December. From there he flies to the Urfa city bordering Syria. There he is welcomed by ISIS cadres Abu Enes and Abu Ibrahim al-Turki.
Citing a conversation with Turkish policemen on his arrival in Urfa, Balusha tells: "When we got off the plane in Urfa, two policemen came up to us. They were in civilian clothes but armed. They called us two to themselves. They took our passports and wrote down our names. They searched us and then said, 'Okay, go and join the ISIS.' To hear that surprised us a lot. We thought they would arrest us. They only stopped us for five minutes."
Recruitment in Urfa
At that time, the jihadists would meet at a central square in Urfa to be transported from there to Syria. Balusha and his friend also go to the square and meet Abu Ibrahim al-Turki there. The about thirty-year-old, Turkish and Arabic-speaking man stands there with two cars. Then come a foreign man and a woman and then two Chechens, two Algerians and two persons from Saudi Arabia to the square. They are taken by vehicles to a location near the border. Then they are housed in two houses in a village near Urfa. Some of those arriving there are with wives and children. They spend the night in the village and set off again with the cars the next day. Together with a guide they cut open the border fence and go relaxed across the border.
First to Raqqa, then to al-Bab
The group first comes to the Siluk town near Kobane, then they are sent to Raqqa and receive their first training at the Abu Musab al-Zarkawi unit. After some time, Balusha goes to Azaz where he gets badly injured by a mortar shell that damages one of his kidneys. He gets hospitalized in Raqqa and loses a kidney. He is then sent to the ISIS Office for the injured and from there to al-Bab.
In time, Balusha gets problems with his other kidney and is sent by the ISIS affiliated "Hayat al-Hijra" organization to Turkey for treatment. In July 2016, he travels via Jarablus to Antep, where he is again received by Abu Ibrahim al-Turki. He is housed in an ISIS house in Antep, sharing it with 15 other ISIS jihadists who are also there for treatment.
Then to Istanbul
Here, the ISIS classify the people in need of treatment as per their health issues. Some are treated in Antep, while others have to be sent to Istanbul. Balusha is one of those who go to Istanbul for treatment. He stays in Antep for a while and receives serum there. In the flat not only injured and sick people are housed, but also "Turkish staff" who bring boxes decorated with Turkish flags and full of with night vision equipment inside. These are transported to Syria at night.
At the end of 2016, Balusha and Abu Ibrahim al-Turki go to a private hospital in Aksaray in the center of Istanbul for treatment. There he is operated. Balusha does not remember the name of the hospital but tells: "It is located in one of the liveliest places in Aksaray. There is a subway station there. There you go down and then go through. Various things are sold at the square. There are clothes shops on one side and restaurants on the other. I do not know the names of the shops, that they were written in Turkish. But there were also many shops of Syrians. The hospital was there, right near Fatih police headquarters."
Everything is well organized
Balusha says the hospital and treatment were very well organized. There were not only ISIS members treated there, but also civilians: "It was clear who came from the ISIS. This could be seen in the clothes, the beards and their whole condition. It seemed to me that doctors and nurses knew it too. It is impossible that this was unknown to the State."
ISIS house near the hospital
After the operation Balusha is discharged from the hospital and placed in a safe house of the ISIS nearby. The house and the hospital are within walking distance so he walks to hospital and back to the house like the other ISIS jihadists. Abu Ibrahim al-Turki always has a gun in his waistband, but he doesn't use it in either Antep or Istanbul.
Balusha continues, "Once I went outside to buy clothes. The police stopped me. They asked me where I came from. I was afraid to say that I came from Palestine and claimed that I was from Syria. They asked me, 'Are you a Syrian member of ISIS?' I said no. They took me somewhere and fingerprinted me. I stayed there for about six hours. When they realized that I was Palestinian, they gave me a paper so I could move freely."
Return via Antep
Balusha returns to Antep in March 2017 and from there with the help of the FSA first to Azaz and then to Idlib and Hama. There he returns to the ISIS and drives to his wife in Tabqa. Afterwards, he goes to Raqqa with her. Since it is not safe there, they travel on to Deir ez-Zor.
Surrender to the SDF
On October 24, 2017 Balusha separates from the ISIS. With his son and his wife, he surrenders to the SDF.
"Turkey is the mother of jihadist groups"
On relations between Turkey and ISIS, Balusha says: "Like me, thousands of ISIS members have been treated in Turkey. Everyone knows that Turkey is the mother of all jihadist groups. This applies to the jihadist groups in Syria, Iraq, Libya and even from Palestine to Afghanistan. Turkey has supported the ISIS massively. In 2015, injured ISIS members were repeatedly taken to Turkey by ambulance and treated there. These were persons of the highest rank. They were brought across the border at al-Rai. This is well known within the ISIS. One of the ISIS jihadists who was seriously injured and transported to Turkey in the ambulance was Abu Qasim, the ISIS intelligence officer for Hama."
RELATED NEWS: