Afrin Autonomous Administration: Silence is support for attacks
The Afrin Autonomous Administration protested the war crimes committed by the invading Turkish state and their allied gangs in Afrin. The administration said silence in the face of Turkey's attacks means support for attempts to revive ISIS.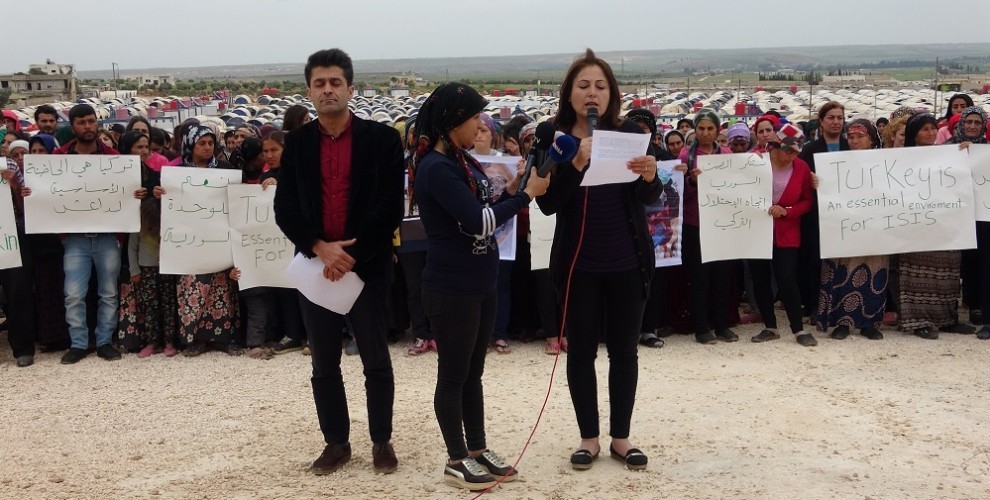 Afrin Autonomous Administration members held a press statement in the Berxwedan camp in Shehba's Fafin district.
The statement's Kurdish version was read by Afrin Autonomous Administration Member Ebiduhemid Bekri and Arabic version was read by Afrin Women's Committee member Zelox Reshid.
The statement included the following:
"Since the beginning of the Syrian crisis, the Turkish state has attempted to intervene in Syria, control neighboring countries' territories and enslave their people to realize their Ottoman dreams. They trained jihadist terrorists and sent them to Syria, and they tried to destroy a people who have played a key role in democracy and civilization.
After ISIS' capital Raqqa was taken by the YPG/YPJ and SDF fighters, the Turkish state carried out vile attacks against Afrin to avenge ISIS, invaded the city and forced hundreds of thousands of people to migrate.
For over a year, the invading Turkish state and their allied gangs have continued their murders, abductions, pillaging, and ransacking and destruction in historic sites. They have also implemented policies to change the demographic structure and to remove the language and culture of the region, to impose a Turkish identity on the residents.
These practices are implemented in accordance with agreements made with Russia, who have their calculations at the expense of Syrian peoples, the Kurdish people and the unity of the Syrian lands. We condemn the Syrian regime's stance regarding the events in Afrin where Turkey and Russia want to create another case of Iskenderun.
We condemn the silence by international organizations and foreign countries against the rights violations in Afrin, and call on the international public and the Kurdish people to take action to end the massacre and ethnic cleansing against Kurds in Afrin. Turkey is taking advantage of this silence and attempting to revive ISIS. According to some reports, Turkey is sending ISIS members to Afrin in different disguises, which poses a threat for the world in general.
As the Autonomous Administration, we urge our people of Afrin in Shehba to watch out for the Turkish state's special war tactics and to fulfill their historic duty until Afrin's freedom is ensured."