Another group of young people from North-East Syria joins the guerrilla ranks
During the long march through North and East Syria, a group of Kurdish and Arab youngsters declared their support for the guerrillas, saying, "We are the guarantee of Kurdistan against occupation and betrayal."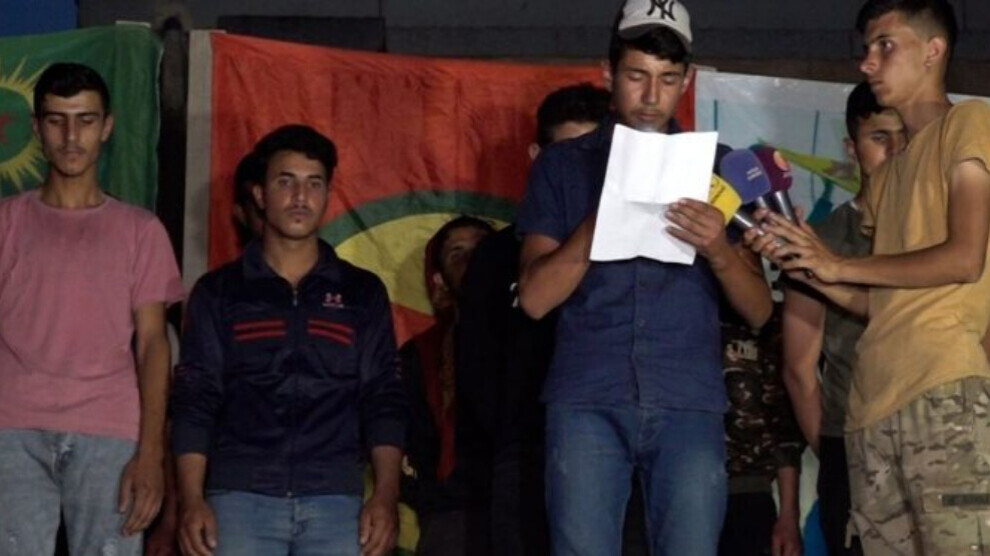 Following the long march in North and East Syria, in which hundreds of Kurdish and Arab youth took part, a group announced their participation in the guerrilla ranks on the basis of mobilization.
The three-day march from Qamişlo to Dêrîk, led by youth movements Tevgera Ciwanên Şoreşger and Yekîtiya Jinên Ciwan, arrived in Dêrîk yesterday on the basis of the mobilization announced with the slogan "Join the Freedom Offensive Against Betrayal and Occupation."
Among the activists, 10 Arab and Kurdish youngsters announced their participation in the guerrilla ranks against the invasion attacks and treachery.
A press statement by the group said, "The Turkish state has left no opportunity for the Kurdish youth to live. As a result, the only location where we can protect our existence and honour is in the mountains of Kurdistan. Being silent about the KDP's cooperation with Erdogan, the vampire of the Kurdish people, means being a party to and supporting the betrayal. We refuse to stay silent in this matter."
The group emphasized their decision to join the guerrilla struggle within the scope of the mobilization started by the youth movement Komalen Ciwanên Kurdistan movement with the slogan " Join the Freedom Offensive Against Occupation and Betrayal."
The statement continued, "We promise to revenge our martyred comrades and to confront the KDP's betrayal, which is the wolf in the tree. Our message to the youth of the world, especially the youth of North and South Kurdistan, is that if they want independence, they must fight the right war, and the only way to fight the right war is to become guerilla. We, the youth, must turn into a ball of fire, blast into treachery and invaders, and convert every place into a field of resistance. We join the mobilization with a strong desire for victory, and we declare that Kurdistan will become a graveyard for the invaders. We are Kurdistan's guarantee. Our call upon every honourable young person is "Join the Freedom Offensive Against Betrayal and Occupation!"