Martyrs of Cizre commemorated
Turkish security forces destroyed Kurdish towns four years ago. Cizre district association of the HDP today commemorated the martyrs of the resistance for self-governance.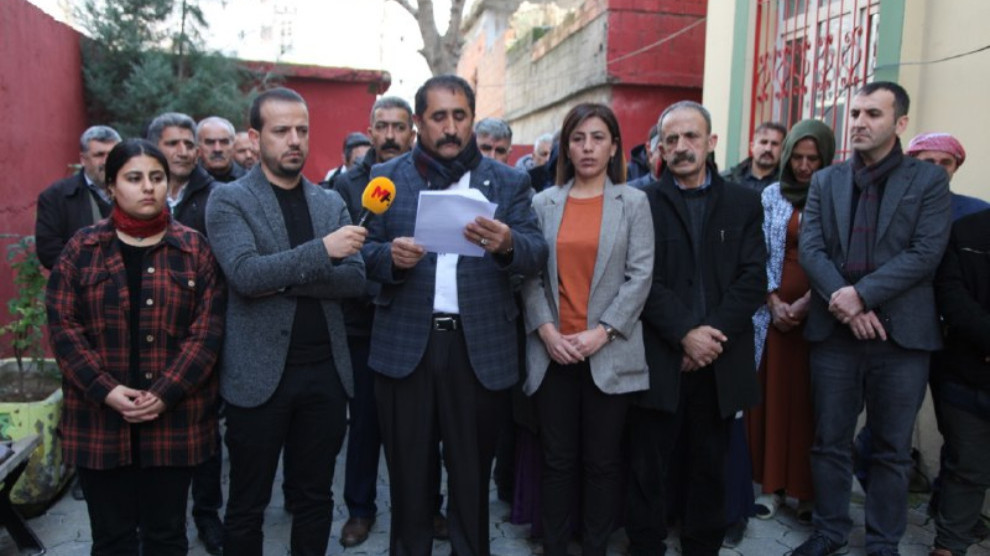 Between the years 2015 and 2016 there was a 79-day curfew in the Northern Kurdistan town of Cizre in Şırnak district. During this time hundreds of inhabitants of the city were killed by the police and military. February 7, 2016 marks one of the cruelest episodes of these attacks. Turkish security forces poured petrol into basements where dozens of people were locked up and burned alive. Representatives of the HDP, the women's movement TJA and many other people have gathered today in Cizre to commemorate the dead. The co-mayor Üzeyir Kılınç made a statement.
"Almost 300 people murdered"
Üzeyir recalled the people who were killed in the "death basements" of Cizre four years ago and the approximately 300 people murdered by the Turkish state during the curfew. He said: "By using heavy weapons, almost 3,000 houses were destroyed in the Yafes, Sur, Cudi and Nur neighborhoods. The UNHCR described the situation as a 'doomsday scenario'. During the curfews, the right to life was violated and the most serious human rights violations took place. This curfew was not only a ban on going out into the streets. It was a de facto ban on living.
"The AKP is responsible and we won't let them rest"
As with the massacres in Roboski and Ankara, the AKP government is trying to make the massacres in Cizre forgotten. There has not been the slightest progress in the judicial processes concerning the deaths and the investigations in this context. On the contrary, the majority of the judicial processes have already been closed. We are facing the same situation as with the 17,000 "unidentified murders" in the 1990s. The perpetrators are protected by the government and the proceedings are an example of impunity. The AKP government is responsible for these atrocities. We will not let the AKP rest until the perpetrators have been identified and punished. Those responsible from the very bottom to the very top will be brought to justice."
RELATED NEWS: