Shengal Autonomous Assembly warns against a new massacre
Shengal Democratic Autonomous Assembly (MXDŞ) evaluated the developments following the agreement made by the Baghdad and Hewler governments for Shengal and warned that Shengal is facing a new massacre.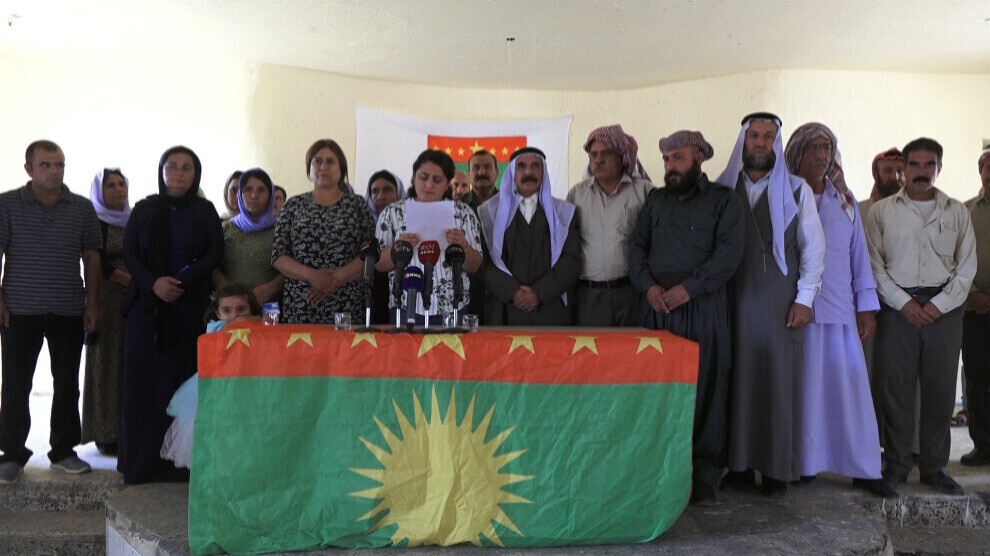 After the agreement on Shengal made between the central Iraqi government and Southern Kurdistan Regional Government on October 9, 2020, Shengal and the Yazidi community living there come to the fore. The Shengal Democratic Autonomous Assembly (MXDŞ) said in a written statement that Shengal is facing a great danger after the agreement and appealed to the Kurdish and world public opinion.
Recalling the reactions of the Yazidis to the agreement signed between Baghdad and Hewlêr administrations on October 9 and the following initiatives introduced to cancel the agreement, MXDŞ announced the following information regarding the state of affairs to the public: "All our attempts through dialogue have failed, and it seems that the parties insist on implementing the agreement."
YAZIDIS FACING 75th MASSACRE
Referring to the genocidal attack of ISIS gangs against Shengal in 2014, which the Yazidis described as the 74th ferman [official decree for genocide], the Shengal Democratic Autonomous Assembly said that the Yazidis are facing the 75th ferman after the October 9 agreement. The Assembly asked "when ISIS gangs attacked, where were those people who now want to send military force to Shengal?" The Shengal Assembly stressed that Shengal does not need any foreign force and can protect itself.
Emphasizing that they are not in favor of any conflict as the Shengal Democratic Autonomous Assembly, the statement continued, "We want to state that we will use our right to self-defense only in the case of an attack against the achievements of our people." In the statement, in which the main purpose of the October 9 agreement is discussed in 6 articles, important articles are summarized as follows:
- Destroying the will of the Yazidi people, eliminating Yazidi self-defense.
- The arrest of Yazidis fighting against ISIS.
- Confiscation of weapons used in Shengal's self-defense.
- Obstruction of traffic through the establishment of checkpoints between cities, neighborhoods and villages.
- Besieging the borders of Shengal and deployment of foreign armed forces in the holy places of Yazidis such as Çêlmêra and Şêbilqasim Kiçil Laliî.
- Resettlement of Arabs who helped ISIS to kill, kidnap and sell the Yazidis by supporting their gangs.
"OUR PEOPLE SHOULD ACT IMMEDIATELY"
MXDŞ stated that the developments mentioned in 6 articles would mean the 75th ferman and demanded the Kurdish and world public opinion to act immediately. In its statement, the MXDŞ made the following call: "Today, the Iraqi government imposes a new decree on Shengal through so-called laws seeking to complete what ISIS couldn't. . We want our people in all four parts of Kurdistan and all our political parties to act immediately to prevent this new decree."
RELATED NEWS: