Gangs to the people of Serekaniye: This is not your home anymore
Ehmed called for international community to take action so the displaced people can return home.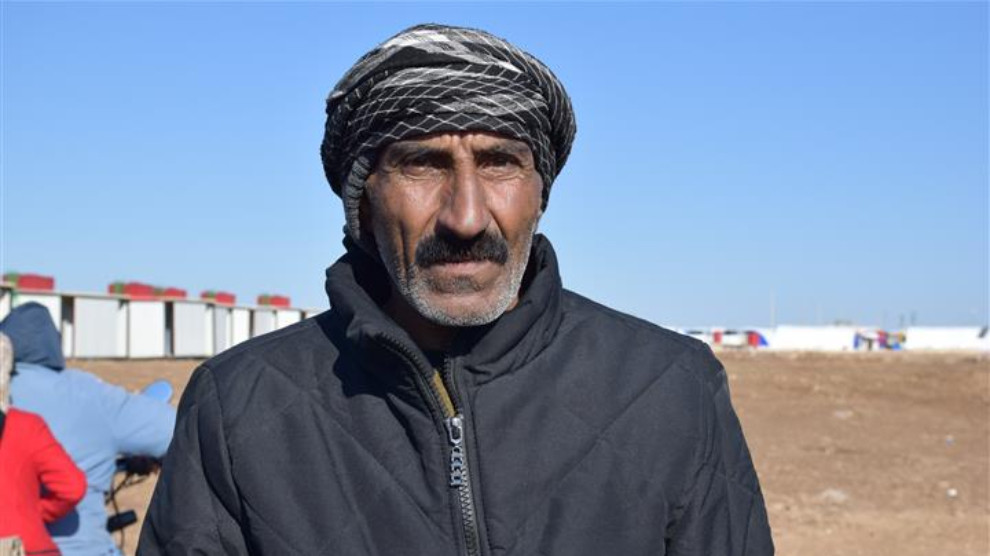 More than 300,000 people were forcibly displaced as a result of the Turkish offensive on North-East Syria. The local people fled the atrocities of the occupation forces and sought shelter in the surrounding towns and cities, now leading their lives under challenging circumstances. The refugees are only supported by the Autonomous Administration and the Kurdish Red Crescent Heyva Sor a Kurd without any international aid.
Mehmûd Mihemed Ehmed is one of the countless people displaced from the invaded areas and accommodated in the Washokani Camp near Heseke.
Speaking to ANHA about the brutal acts of the occupation forces against civilians, Ehmed stated that the Turkish-backed mercenaries that have occupied Serekaniye (Ras al-Ain) and Gire Spi (Tal Abyad) intimidated the civilians and looted their properties.
Ehmed returned to his home in Serekaniye together with his wife and children. He tells the following; "When we arrived home, a group of mercenaries came and took my son away. They also threatened my wife, saying that they would not release our son unless we left the city. My son was released only after my wife told them that we would go back if they set our son free. Then we fled Serekaniye once again. On our way back from home, we encountered mercenaries who told us that "this is not your home anymore". We came back to Heseke."
Ehmed recalled that SDF freed the region of ISIS and protected the world from the terror of the savage organisation and called for international community to take action so the displaced people can return home.
Ehmed said the Autonomous Administration took care of his family and provided them with basic needs in the Washokani Camp where he is staying with his family at the moment.
RELATED NEWS: